The Village
Fernand Léger French

On view at The Met Fifth Avenue in Gallery 908
Fernand Léger was drawn to Cubism in 1909 after seeing the work of Georges Braque and Pablo Picasso at the Paris gallery of Daniel-Henry Kahnweiler. With its faceted forms and reduced palette, Cubism offered a revolutionary style to approach the world; Léger, however, distinguished himself from Braque and Picasso with muted compositions of repeated, cylindrical forms that French critic Louis Vauxcelles derisively called "Tubism." In 1912, Léger began a new group of works—about 150 paintings and works on paper—he called "Contrasts of Forms." These works share a common abstract vocabulary of stylized geometric elements with emphatically brushed contours and saturated, primary colors. The cones, cylinders, cubes, and planes that constitute the landscapes, still lifes, and figures in the series energetically tumble across and crowd the compositions, reinforced by the rhythmic contrasts of color that Léger applied in loose, dry patches and scumbles.

One of the canvases in the Contrasts of Forms series, The Village presents an aerial view of a walled community with angled roofs, rounded trees, and a medieval church with buttresses and a bell tower. It is likely that Léger did not directly observe this scene, but constructed the image from memory of travel, or possibly even of another painting. The composition embodies "the law of plastic contrasts" that Léger sought to explore through careful oppositions of line, form, and color. In this, he was strongly influenced by Paul Cézanne, whom he credited with teaching him to "love forms and volume." While The Village depends on a new pictorial vocabulary, it also relies on traditional techniques of atmospheric perspective and chiaroscuro (the use of light and shadow to create the illusion of three-dimensionality). Forms decrease in size and colors lighten moving from the fore- to the background of the canvas. Léger applied color, however, with little regard for naturalism; his observance of chiaroscuro developed into an exploration of the syncopation that black and white can invigorate across a surface.

The central part of The Village is painted in the colors of the French flag—blue, white, and red—a patriotic note during the increasing political tension in which Léger worked. Completed in the summer of 1914, The Village culminates the Contrasts of Forms series, which came to an end with the outbreak of World War I and Léger's conscription into military service.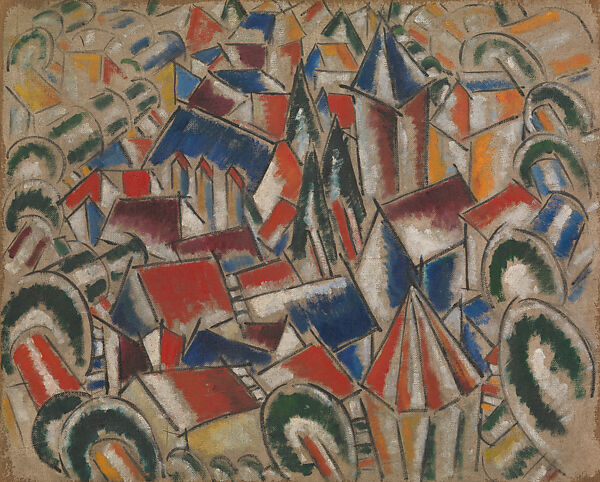 This artwork is meant to be viewed from right to left. Scroll left to view more.