Trumpet in G
Michael Saurle German

On view at The Met Fifth Avenue in Gallery 680
Since ancient times trumpets have been used for signaling during courtly, military and religious events. In Europe from the late Middle Ages to the twentieth centuries and in the United States since the 1940s trumpets have been maintained for ceremonial display and regal representation. In seventeenth and eighteenth-century orchestral music the trumpet evoked an heroic character, that usually symbolized the earthly and heavenly ruler, war, or the military. The playable notes of a natural trumpet (a tube in which air is vibrated by the lips) are the harmonics, a number that largely depends on the length of the tube. Originally straight and short, the trumpet's tube length increased during the Middle Ages and eventually was coiled in loops. In the second half of the eighteenth century trumpets used in orchestras were usually "invention trumpets" with interchangeable crooks permitting the instrument to play in different keys. To increase the instrument's range one of several mechanisms was utilized: the slide at the end of the fourteenth century; keys in 1796; and valves as early as 1814. Keys and valves turned the trumpet into a chromatic instrument, which made a significant change in the trumpet's sound aesthetic, symbolic meaning and compositional usage.

This is one of the earliest extant valve trumpets built for the "Königliche Landwehr Jäger Bataillon" (Royal Guard Rifle Battalion) in Munich.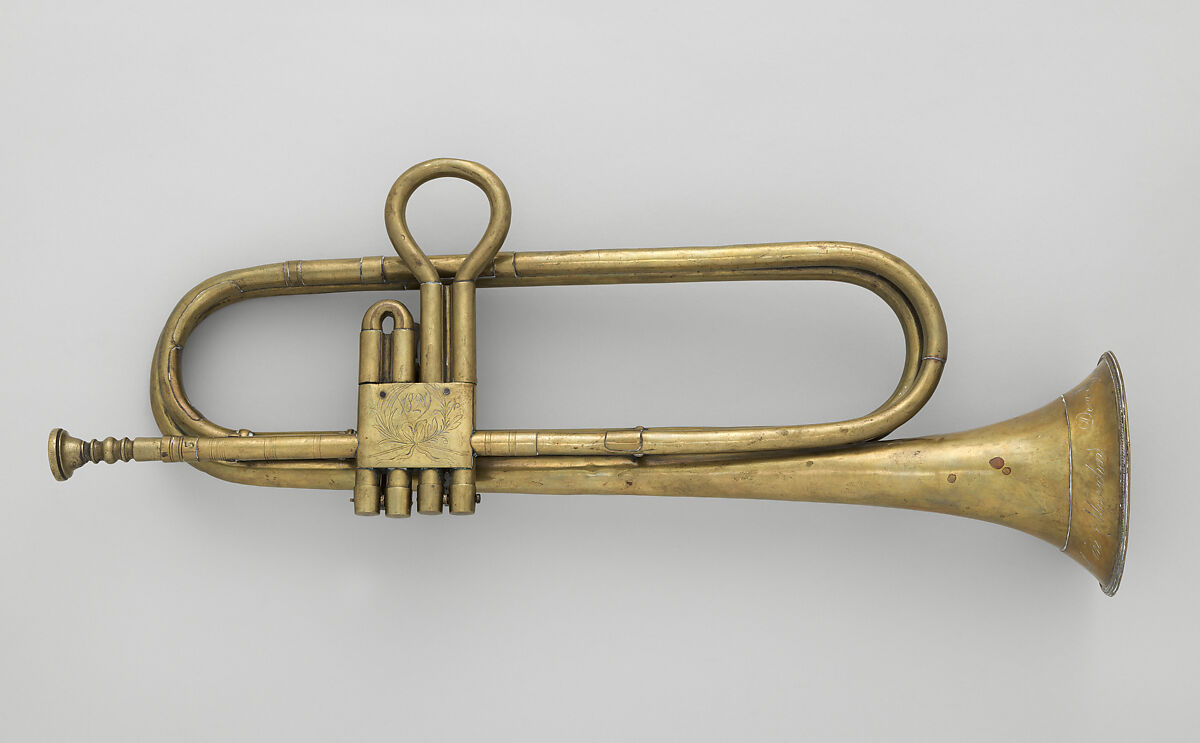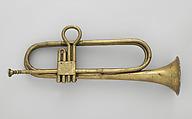 This artwork is meant to be viewed from right to left. Scroll left to view more.