Spinet
On view at The Met Fifth Avenue in Gallery 684
Still playable after 450 years, this spinetta embodies the spirit of Italian humanism in its sophistication and elegance. The graceful pentagonal shape of the case conforms to the layout of the strings stretched over the soundboard, and the exterior is richly decorated with panels of inlaid wood, mother-of-pearl, and tracery. Layers of pierced parchment recreate a Gothic rose in the sound hole. Dolphins appear in the inlay flanking the keyboard, and carved figures of grotesques bracket the keyboard. Over the keys is a line of poetry meant for the musician's eyes: "I'm rich in gold and rich in tone; if you lack virtue, leave me alone." It embodies a pun on the word "virtue" (del buono); in other words, the musician should have personal goodness as well as musical skill.

The musician who commissioned this instrument was Eleanora della Rovere (daughter of Isabella d'Este), who grew up in a cultivated court where both religious and secular music would have been heard and performed. Eleanora became duchess of Urbino when she married Francesco Maria della Rovere and set up her own court. Her commission of this instrument and the price paid are recorded inside the case ("Ordered and made for Her Excellency the Duchess of Urbino in the year of our Salvation 1540 and paid 250 roman scudi."), but the name of the maker is not known.

Technical description: 4-1/2 octaves, C/E-f3, with crow quills and parchment soundhole rosette; front board, alternate squares of marquetry with carved border and geometric parchment design studded with ivory buttons; lower part of front board removable strip of wood held by 2 dowels; right and left front panels, in foliate patterns; carving at sides of keyboard, dragon in tree, cherub below amidst foliage; case, background painted pale green, border dark green, symmetrical floral motives painted in yellow, green, some orange; with case.
#Lionel Party, virginal; Ca[roccop Sopra, Girolamo Frescobaldi (1583–1643). "Girolamo Frescobaldi: Toccatas and Capriccios", Desmar DSM-1013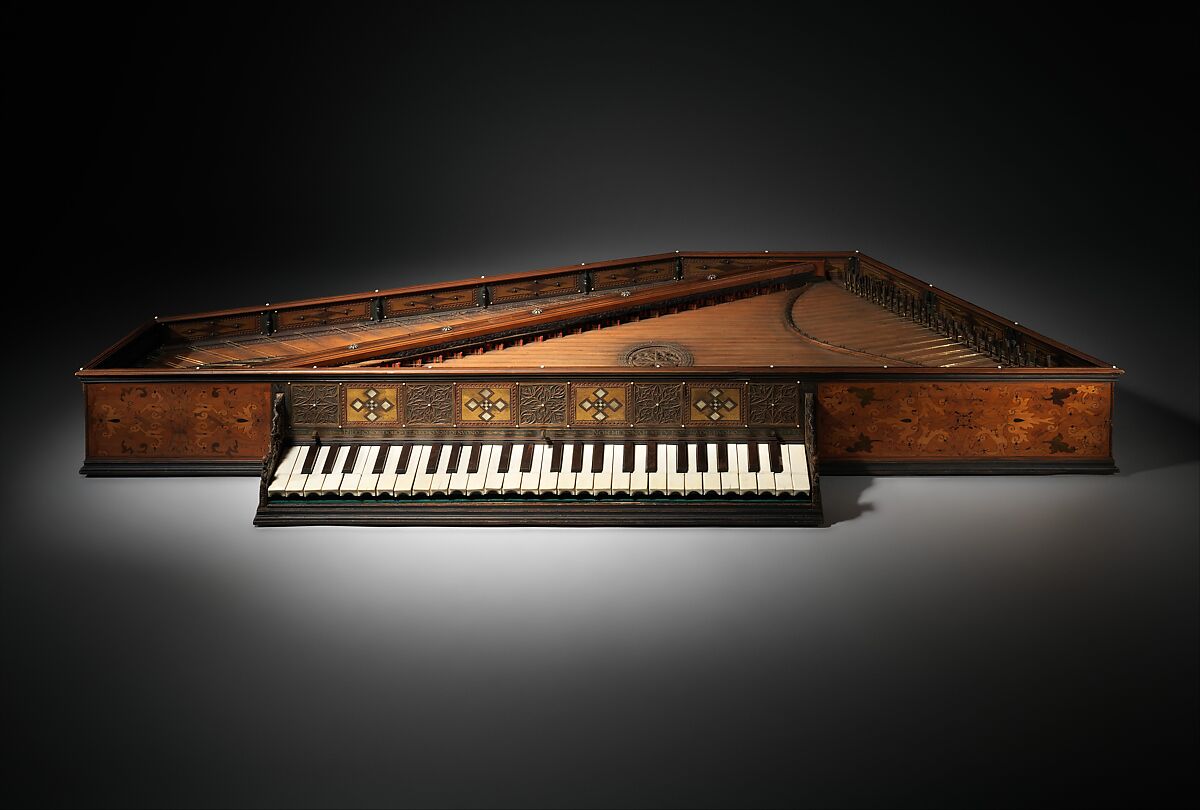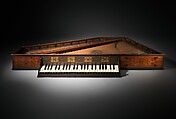 This artwork is meant to be viewed from right to left. Scroll left to view more.