Harpsichord
Designer Michele Todini Italian
Basilio Onofri Italian
Jacob Reiff Austrian, active Rome

On view at The Met Fifth Avenue in Gallery 681
This harpsichord and its accompanying figures were part of Michele Todini's Galleria Armonica, a private museum featuring his complex musical mechanisms, clocks, and instruments. It was the centerpiece of La Macchina di Polifemo e Galatea, an installation that united music, visual art, and dramatic narrative. Canvasses by Gaspard Dughet representing sea and air completed the scene. The Galleria was a popular stop on the European Grand Tour during the 1670s.

The frieze on the harpsichord's case depicts the Triumph of Galatea, and the two figures represent the narrative of the cyclops Polyphemus's unrequited love for the nymph Galatea. A small mechanical bagpipe that imitated the sound of his sculpted bagpipe would have been concealed in a "mountain," no longer present, and played from the harpsichord on a second keyboard. This enabled a narrator to present the story of Polyphemus and Galatea with musical accompaniment. Todini's ingenuity and multifaceted artistic expression sprang from the same creative climate that gave birth to opera.

Polyphemus:

Seated on a rock at the edge of the Ionian Sea, Polyphemus plays a bagpipe to charm Galatea. The instrument is similar to the sordellina doppia invented by Todini. The cyclops's kindly and refined expression suggests that Todini was referencing Polyphemus as portrayed by Theocritus in his Idylls, rather than the violent, enraged monster of Ovid's Metamorphoses. This interpretation is reinforced by the gentle, winsome sound of the sordellina that Todini chose to represent Polyphemus. Although the eye in the center of his forehead gazes outward, his normal eyes are closed, reflecting the notion that love is blind.

Galatea:

Galatea is depicted here as the young, idealized girl who Polyphemus encounters in his dreams. Her arms are posed in a Baroque theatrical gesture typically used to express innocence and helplessness. She rejects the love expressed by Polyphemus through his warm, lyrical bagpipe playing, and is represented musically by the cold, austere timbre of the harpsichord.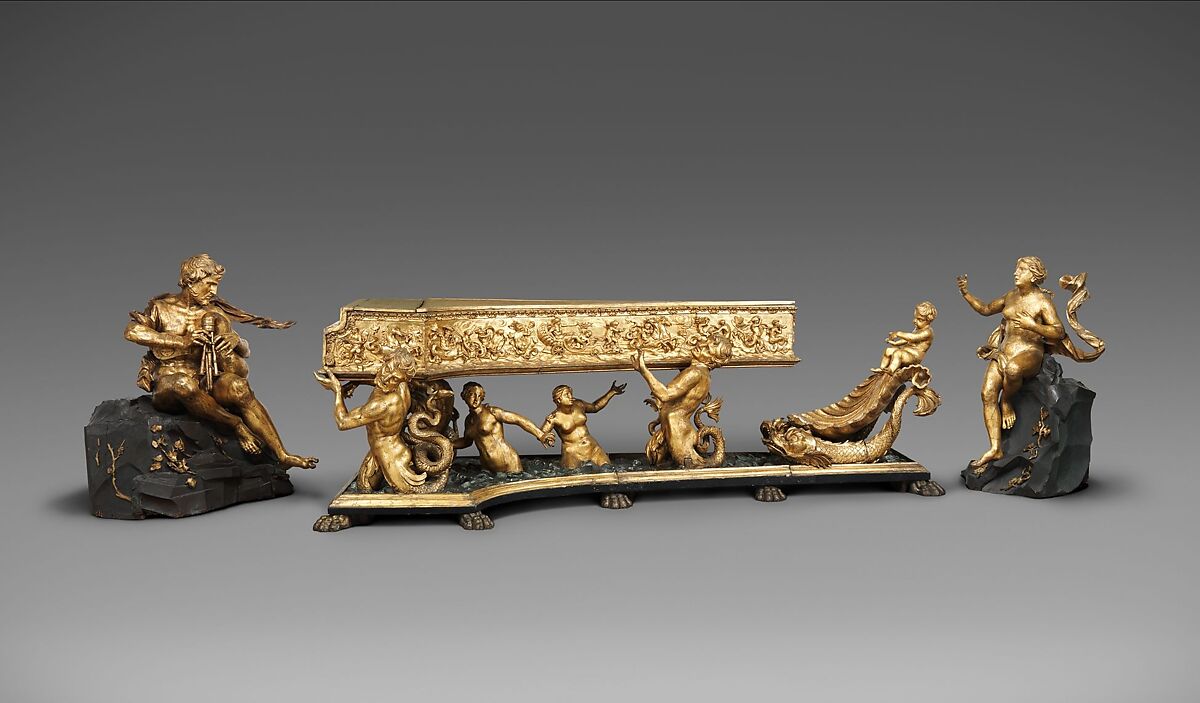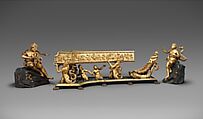 This artwork is meant to be viewed from right to left. Scroll left to view more.