Double Virginal
Lodewijck Grouwels Flemish, active The Netherlands

Not on view
This is the only known instrument of Lodewijck Grouwels, a Protestant maker who left Catholic Antwerp in 1593 and moved to the Calvinist stronghold of Middelburg. The instrument is sometimes referred to as a "mother and child virginal," as there is a main virginal (the mother) and a second smaller removable octave virginal (the child). The small keyboard is a replacement made by the famous harpsichord maker Arnold Dolmetsch in 1896 during a restoration of the entire instrument.

The instrument is lavishly decorated, with painted surfaces on the front (keywell), soundboards, and interior of the lid. The lid painting features the story of David and Goliath. On the far right can be seen the battle between the young David with his slingshot and the giant Goliath. In the lid's center is a procession showing David with the head of his slain adversary. On the left are the city gates of Middelburg. The story of was likely a metaphor for Protestant Middelburg, part of the United Netherlands since 1581, which bordered the Catholic Spanish Netherlands. (Ben Hebbert 2016)

Technical description: Compass of the larger, four octaves and a fourth-- G to C; lowest octave short. Compass of the smaller, four octaves--C to C. Oblong case, the interior decorated with gilding and painted scroll-work. The large front-board hears the motto: SCIENCIA NON HABET INIMICUM NISI IGNORANTEM; the front-board of the smaller instrument, inserted in the case to the right of keyboard, bears the motto ARS USU IVVANDA. The soundboards of both instruments are painted with flowers and fruit, each with a rose bearing the initials L. G., and representing Pan blowing an organ with his lips. Keys, ivory naturals with black sharps, latter finely inlaid. Quill plectra.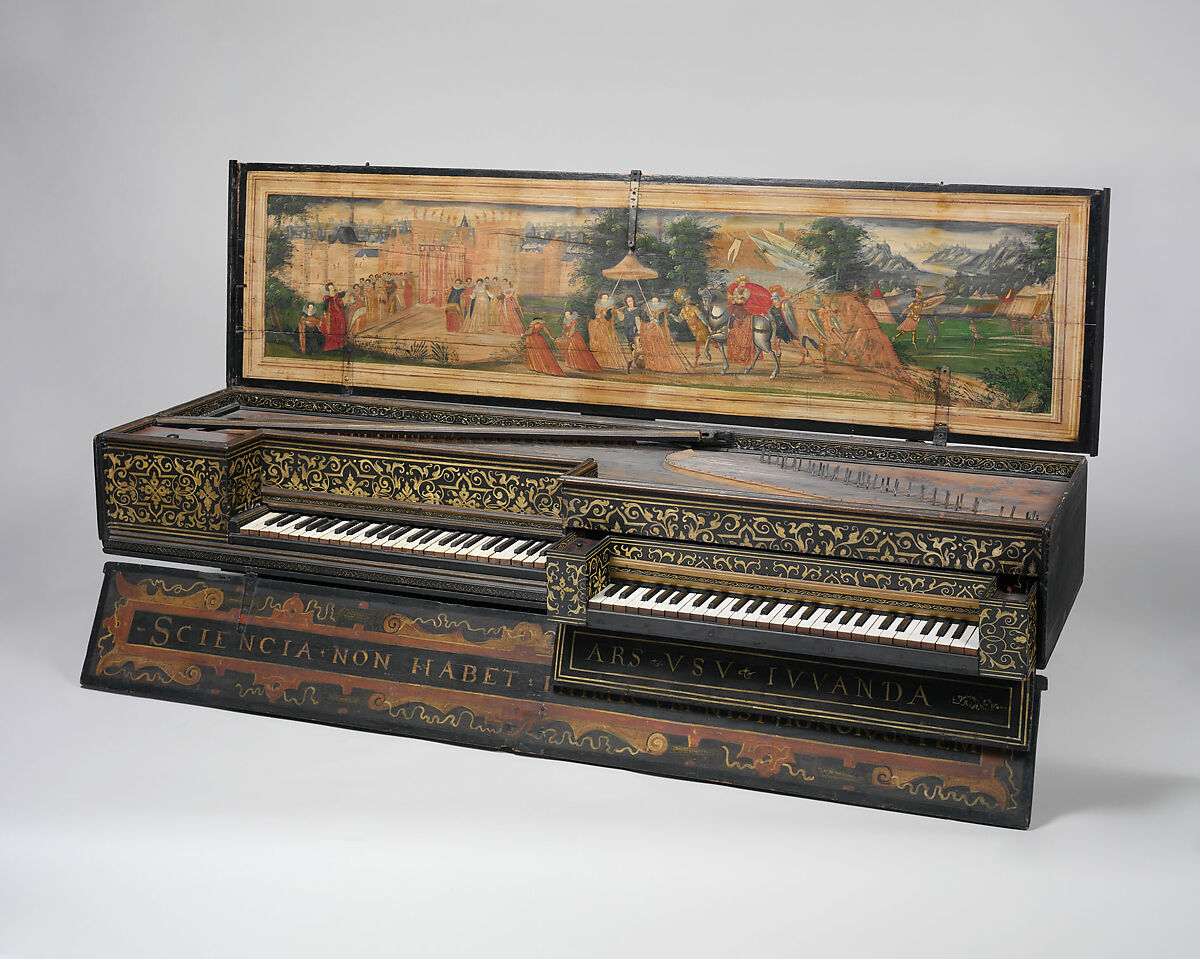 This artwork is meant to be viewed from right to left. Scroll left to view more.