Guqin (古琴 )
Prince Lu Chinese

On view at The Met Fifth Avenue in Gallery 684
Many Ming-dynasty princes, starting with the sons of the founder and continuing until the last generation before the dynasty's fall in the mid-seventeenth century, were accomplished musicians, and some made important contributions to musicology and musical theory. The first prince of Lu (1568–1614), brother of Emperor Shenzhong (Wanli), was an immensely rich man, and hundreds of qin were made for his household and descendants in the last years of the Ming dynasty. Zhu Changfang (1608-1646), the last prince of Lu, commissioned hundreds of qugin . All bear the inscription of the Princedom of Lu, and all are numbered. About ten Prince Lu qin are extant; the one in the Metropolitan Museum, number 18, dated 1634, is the earliest. The highest-numbered Prince Lu qin known is number 295. It is dated 1644, the year the Ming dynasty came to an end.
The back of the Museum's qin bears the maker's seal and date, the words "Capital Peace," and a twenty-character poem by Jingyi Zhuren (d. 1670) that reads:

The moonlight is being reflected by the river Yangzi
A light breeze is blowing over clear dewdrops,
Only in a tranquil place
Can one comprehend the feeling of eternity.

Endowed with cosmological and metaphysical significance and empowered to communicate the deepest feelings, the qin, beloved of sages and of Confucius, is the most prestigious instrument in China. Han-dynasty writers state that the qin helped to cultivate character, understand morality, supplicate gods and demons, enhance life, and enrich learning. Ming-dynasty literati who claimed the right to play the qin suggested that it be played outdoors in a mountain setting, a garden, a small pavillion, or near an old pine tree (symbol of longevity) while burning incense to perfume the air. A serene moonlit night was considered an appropriate time for performance. Each part of the instrument is identified by an anthropomorphic or zoomorphic name and cosmology is ever present: for example, the upper board of wutong wood symbolizes heaven, the bottom board of zi wood symbolizes earth. Qins over a hundred years old are considered best, the age determined by the pattern of cracks (duanwen) in the lacquer. The thirteen studs (hui) indicate finger positions. Strings of varying thicknesses are made of twisted silk.
#"Ode to Autumn Wind," played by Jiaoyue Lyu, 2016.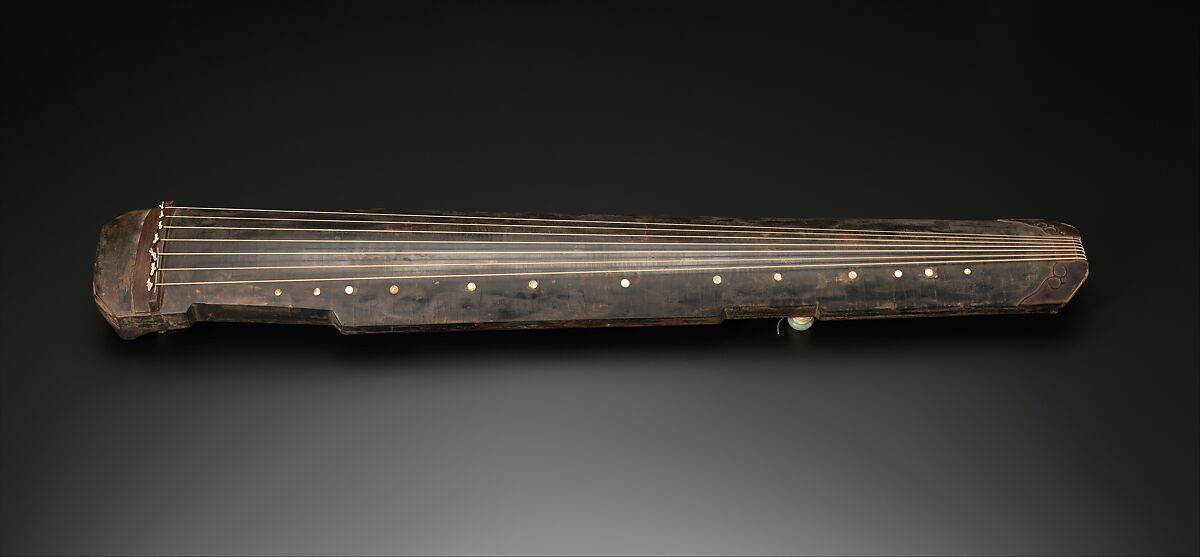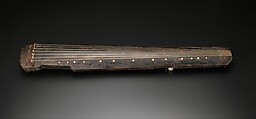 This artwork is meant to be viewed from right to left. Scroll left to view more.