Fortepiano
Conrad Graf Austrian

On view at The Met Fifth Avenue in Gallery 682
Conrad Graf (1782-1851), maker of this six and one-half octave piano, was one of the most important fortepiano makers in Vienna between 1822-42. In 1824 Graf was appointed Austrian court keyboard instrument maker and in 1835 received a gold medal at the Austrian Industrial Products Exhibition. Composers such as Beethoven, Czerny, Schubert, Schumann, Kalkbrenner, Mendelssohn, Chopin, Liszt, and Brahms, as well as the Empress of Russia, the Queen of Saxony, and the Archduke and Archduchess of Austria owned Graf pianos. This instrument was probably made the year before Robert Schumann's Graf piano, a period that includes many of the greatest works of the piano repertoire.

Technical description: The Biedermeier case is typical of Graf's cabinetry from 1835-40; the book-matched walnut veneer, pedal lyre, and profile of the turned legs are nearly identical to Graf pianos in the Upplands Museet in Stockholm and the Colt Clavier Collection in Kent (U.K.); aside from an iron gap spacer, bridging the wrestplank and belly rail, the structure of the piano is entirely of wood (there is no metal fame as in the modern piano); the case is constructed of coniferous woods and oak veneered with figured walnut; the tail and cheek-piece miter, as well as the key-well sides are square (as opposed to rounded-over, as in Graf's earlier instruments); the tail and cheek miters are also square off; the instrument stands on three turned legs having brass casters; the pedal lyre supports four pedals: una corda, two moderators, and damper lift; the keyboard range is CC-g4; the nameplate consists of an engraved paper label under original glass, surrounded by an embossed ormolu frame; the nameplate inscription read: CONRAD GRAF/kaiserl : kon : hof-fortepianomacher/ WIEN/nachst der Carls-Kirche im Mondschein No. 102; on the soundboard there is a printed and signed label that reads: Goldene Medaille/FERDINAND I. KAISER VON OESTERREICH/Conrad Graf/in Wien/Fortepiano/No. 2564. Conrad Grad mp; there is also a maker's brand on the yoke: 564/WERK/DES/CONR:GRAF/IN WIEN; the instrument is triple strung except for the bottom seven notes, which are double strung; the lowest sixteen notes (of brass wire and brass spun over steel) are mounted on a separate bridge and nut; the Viennese action is of the most developed type, with spring-loaded escapement levers, an escapement-lever rail, hammer check rail, brass kapsels, and leathered, wedge-shaped dampers suspended over the strings by a leathered rack; the hammers are covered with multiple layers of tawed sheep skin; all of the damper and hammer leathers are original and in very good condition; the key and action cloths are all original, though there is moth damage in some areas.
#Sonata No. 1 in A minor, Allegro assai e con spirito by Daniel Gottlob Türk, performed by Michael Tsalka, 2013.
Playlist

Sonata No. 1 in A minor, Allegro assai e con spirito by Daniel Gottlob Türk, performed by Michael Tsalka, 2013.

Impromptu in G Flat Major by Franz Schubert, played by Michael Tsalka, 2012.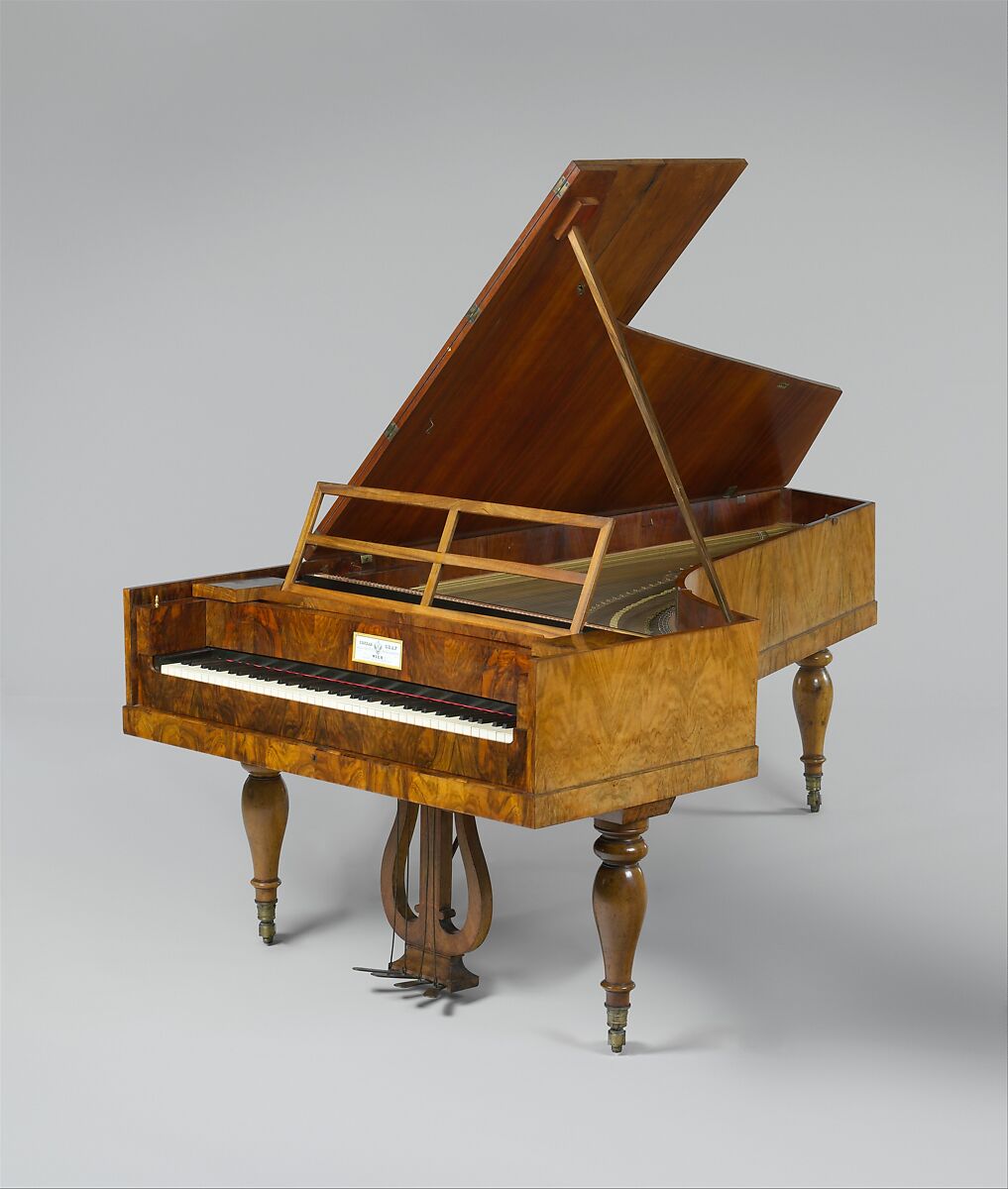 This artwork is meant to be viewed from right to left. Scroll left to view more.