Double Virginal
Hans Ruckers the Elder Flemish

On view at The Met Fifth Avenue in Gallery 684
This double virginal is the earliest known instrument by Hans Ruckers, who founded a dynasty that dominated Flemish harpsichord building for a hundred years.Double virginals consist of a large instrument (called "the mother"), with its keyboard placed off-center, and a small virginal ("the child"), tuned an octave above that of the large instrument and stored in the space next to its keyboard. Either instrument may be played by itself, or the small virginal may be removed from its space and placed on top of the larger one. When this is done, the keys of the "child" are activated when those of the "mother" are played, thereby causing both instruments to sound at once, in octaves.

The rectangular shape is typical of Flemish virginals. When not in use, the front panel swings up to conceal the keyboards, and the lid closes to protect the strings. The inner surfaces, revealed when the instrument is opened, are decorated with painted patterns, and the Latin inscription Mvsica Dvlce Laborvm Levamen (Sweet music is a balm for toil) hangs from the instrument like a banner. The jackrail of the smaller keyboard is signed "HANS RVEKERS ME FECIT" and the initials "HR" appear to the left of the larger keyboard. Over the larger keyboard two gilded medallions, profile portraits of Philip II of Spain and his wife Anne of Austria, face each other.

The inside lid reveals a beautiful painted interior with a pleasure garden scene, the maker of which is unknown. The theme of the outdoor garden party, the buitenpartij or fête champêtre, of which this is an early example, became a popular genre in the seventeenth-century Netherlands, reviving the age-old artistic tradition of the Garden of Love. Although somewhat stiffly executed, stylistically this painted view on the virginal fits garden scenes made by contemporary Flemish Renaissance artists, including Lodewijk Toeput (1550–ca. 1605) and David Vinckboons (1576–1629). Particularly charming in this garden scene is the way in which the elegantly dressed members of the upper class are amusing themselves in the meadows of the adjoining, moated castle. Their activities range from dining and playing musical instruments in the central pergola, to gentle promenades, embarking on a boat ride, or playing the game of kolf, forerunner of today's golf. The text painted on the dropboard of this virginal, Musica Dulce Laborum ("sweet music eases work"), not only refers to the playing of this keyboard instrument, but also to the musicians in the painted garden of leisure.

The royal family may have commissioned this instrument to send to friends or emissaries in the New World, as it was found in Cuzco, Peru, in a hacienda chapel early in the twentieth century. Although it is not known who owned or played this instrument, keyboards often were associated with women musicians.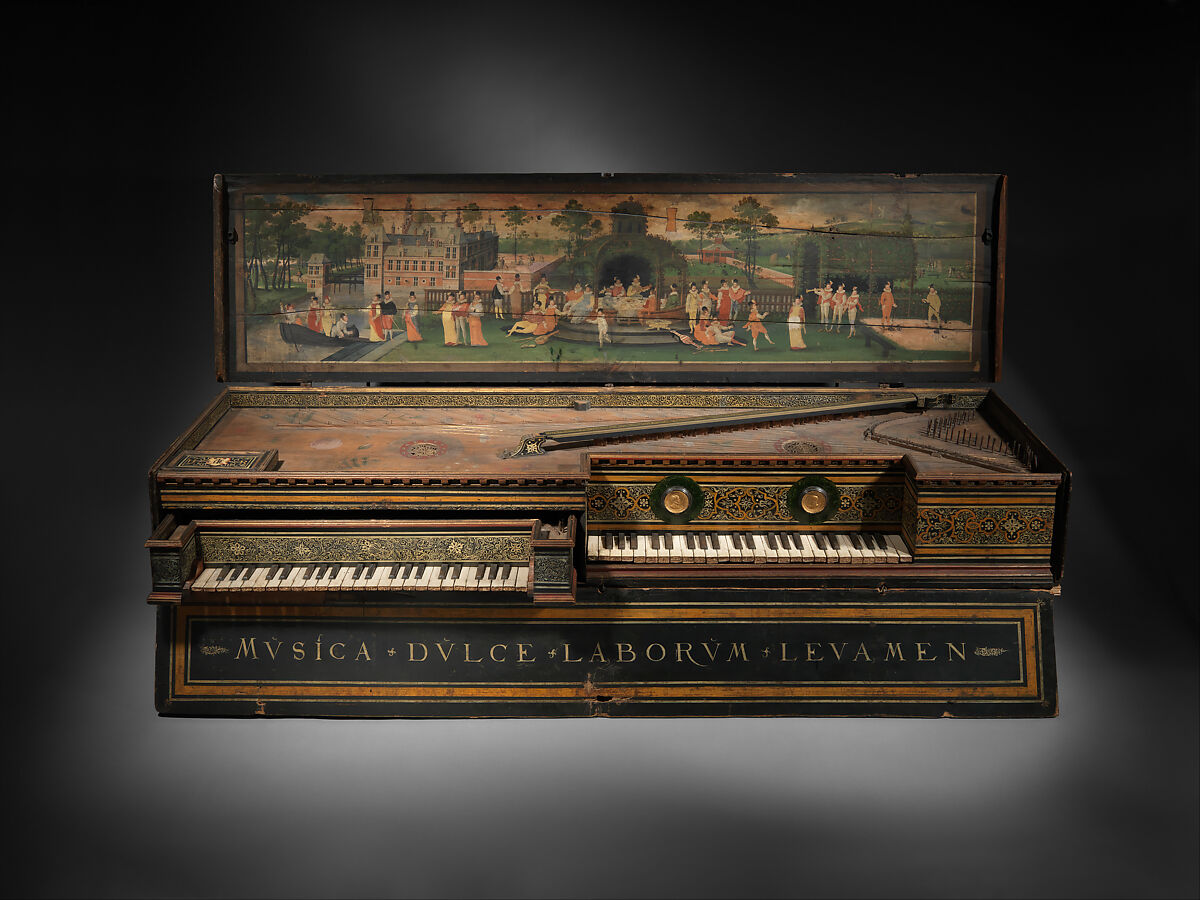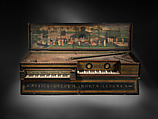 This artwork is meant to be viewed from right to left. Scroll left to view more.