Side Drum
Attributed to Ernest Vogt American

Not on view
Side drums were the most important instrument in the infantry of European armies and were commonly in use in the colonies of British North America beginning in the middle of the seventeenth century. Such drums were part of the "field music" along with fifes and used to provide cadences for marching armies as well as to signal all aspects of an infantry soldier's day from sounding a wake up alarm, to signaling meals, calling soldiers for drill practice, announcing the mail call, and telling soldiers to go to bed. Side drums were worn on a sling to the player's side, hence its name. Snares, or cords, strung across the bottom head rattled when the drum was played and gave it a characteristic buzzing sound.

This side drum from the 1860s bears a stenciled eagle design that was typical of the thousands of instruments produced for use by the Union army during the Civil War. The eagle is painted on a blue field, which means it was used in the Infantry, and a banner held in the eagle's beak bears the words REG: U.S. INFANTRY.

To the right of the eagle painting is a tack design. Brass tacks were used to reinforce glued shells, and the tack designs became decorative elements for drum makers and also served as a kind of maker's mark. The tack design on this drum consists of a circle around the vent hole; above and below the circle are arrows pointing toward the rims. These geometric figures are framed by two parallel rows of tacks that are parallel with the shell seam. This design is the same one used by the prolific drum manufacturer Ernest Vogt, in Philadelphia, and allows attribution to his workshop.

Technical description: Ash shell. Standardized Federal U. S. Army stencil decoration. Brass tack decoration around vent hole. Rope tension with ten leather tugs. Wood rims with red paint. Ten drilled holes through which the rope passes. Calfskin heads. Originally snare strainer mounted to snare rim. Originally five gut snares held opposite the strainer by a leather strap.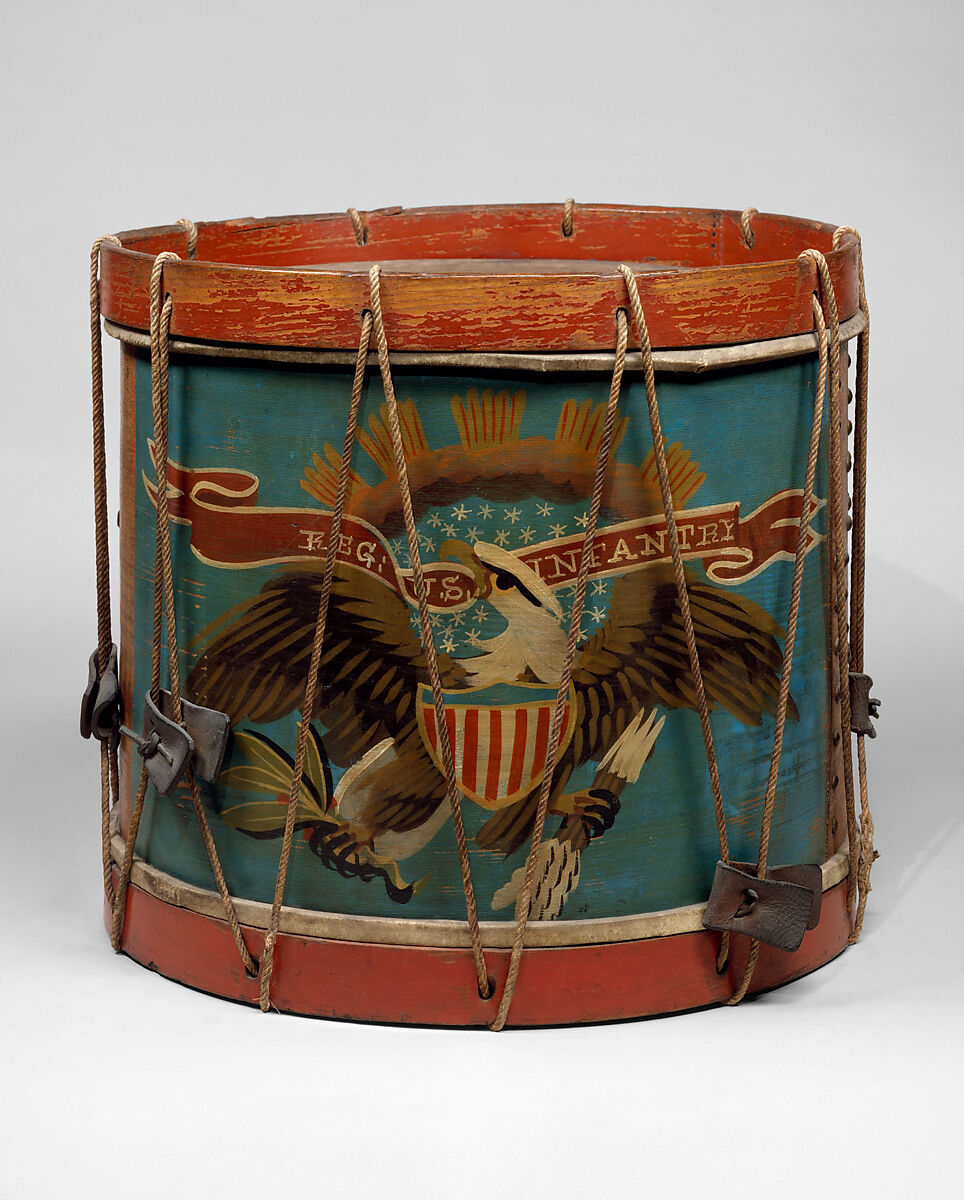 This artwork is meant to be viewed from right to left. Scroll left to view more.