Giraffe with Two Keepers
Qing dynasty (1644–1911)
Not on view
In 1414, a giraffe—a creature unknown in China at the time—was presented to the Yongle emperor (r. 1403–24) from the king of Bengal, which was a major trading center on the maritime route between the Arabian Peninsula and China. The Chinese immediately associated it with the qilin, an auspicious mythical creature. As a qilin only appears during the rule of a sagacious ruler, courtiers composed a number of sycophantic encomia celebrating the arrival of the giraffe as an omen that legitimized the reign of the Yongle emperor, who had usurped the throne. The many nearly identical paintings commemorating this event attest to the impact of this gift on the court. The giraffe also influenced the design of the qilin rank badge used for nobles.

The giraffe's arrival in China was occasioned by the extraordinary naval expeditions of Admiral Zheng He (1371–1433). Between 1405 and 1433, he commanded seven expeditions, the largest consisting of more than three hundred ships and 37,000 sailors, that reached as far as the east coast of Africa and established China's prestige throughout the region. The giraffe became an emblem of the Yongle emperor's diplomatic success. In this late version of the painting, a celebratory inscription by Shen Du (1357–1434) has been omitted, the giraffe has been given a geometric pattern of hexagonal spots, and central Asian grooms have been substituted for the original South Asian keepers.
#7621. Giraffe with Two Keepers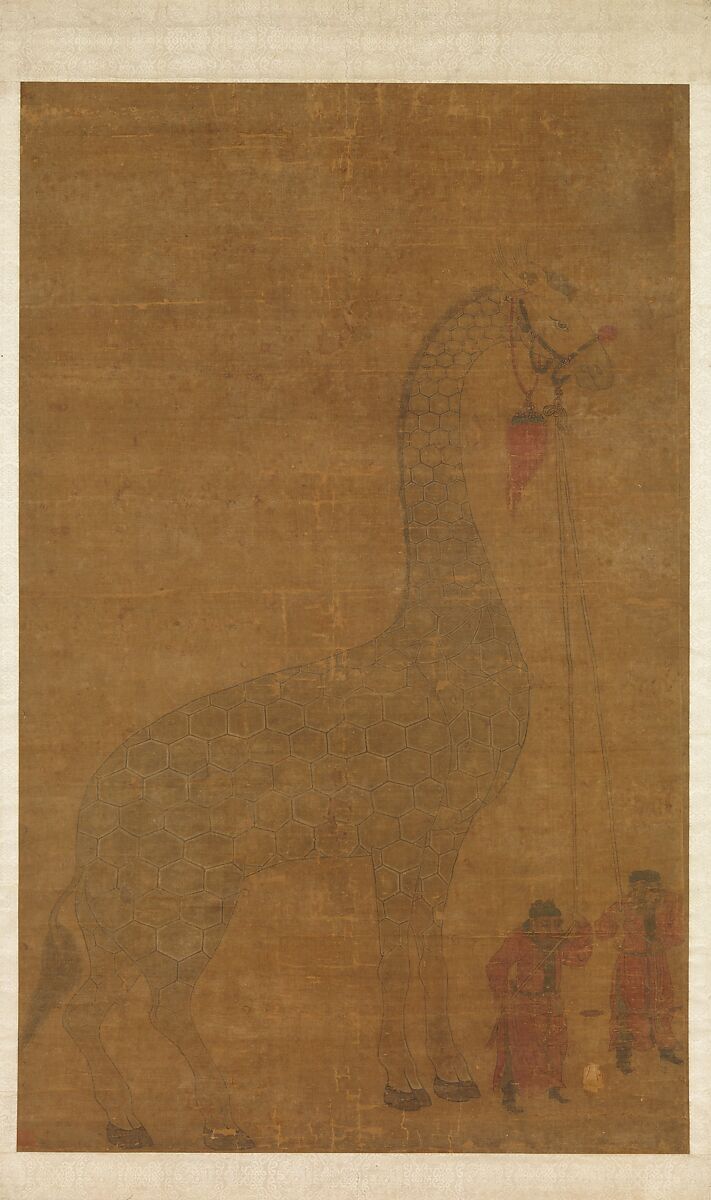 This artwork is meant to be viewed from right to left. Scroll left to view more.