Menat counterpoise with figures of Hathor as a woman and a cow
New Kingdom
On view at The Met Fifth Avenue in Gallery 119
The menat is a ritual necklace, which consists of multiple strings of beads attached to a counterweight, also called a menat, shaped like a pendulum. The necklace could be worn by the goddess Hathor or by others associated with her, or her priestesses and eventually elite women could hold the counterweight in the hand to shake the beads to produce a rattling sound soothing to the goddess. The counterweight alone was a magical symbol of the goddess Hathor, and in the New Kingdom small menats were dedicated to the goddess by those visiting her sanctuaries.

This fine openwork example includes three representations of the goddess, fully detailed on both sides: the goddess's head at the top of the menat underscores the identity of the menat as a fetish of the goddess Hathor, a full anthropomorphic figure of the goddess appears inside the central frame, and a third figure of the goddess in her cow form moves through the papyrus marshes in a light reed boat. The features of the goddess head at the top allow it to be assigned to the reign of Amenhotep III.

As a symbol of the goddess, the menat brought fertility, fostered the newly born and rebirth in the afterlife.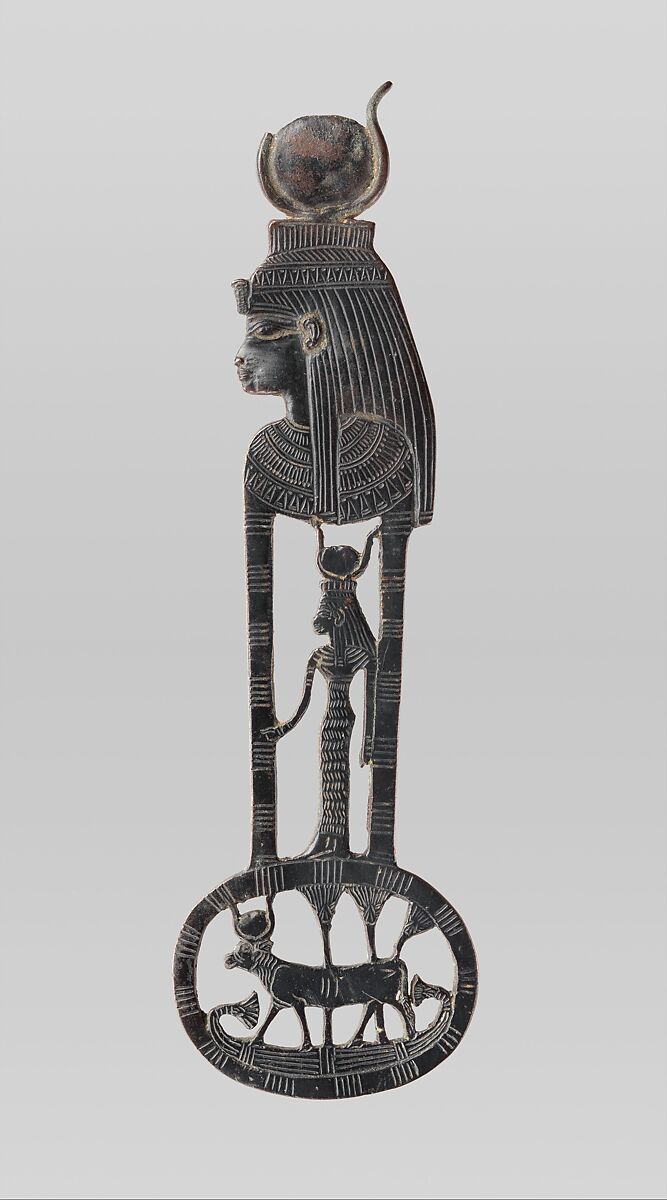 This artwork is meant to be viewed from right to left. Scroll left to view more.