Tanuki (Racoon Dog) Viewing Its Reflection in Water
Kawanabe Kyōsai 河鍋暁斎 Japanese

Not on view
Although this image has traditionally been identified as a fox, which is a subject the artist frequently depicted, the shape of the animal's face and the end of its tail indicates that was more likely meant to depict a tanuki, or Japanese raccoon dog. Both the fox and tanuki are celebrated in Japanese lore Caught in mid-leap as it gazes at a sketchily delineated and ambiguous form, the beast envisioned here recalls the tanuki's fabled power to assume diverse transformations, frequently that of a beautiful woman, and to beguile the unwary.

Kawanabe Kyōsai was one of the most prolific and original painters of the late Edo and early Meiji eras. His mastery of traditional painting techniques acquired by apprenticeship in the Kano school was transformed by strong personal eccentricity to gorge the lively original art exemplified here. The style and signature, "Seisei Kyōsai," indicate that this is a work of his final decade, the 1880s, when Kyōsai was at the height of his powers and was one of the earliest Japanese artists to be avidly admired and collected in Europe and the United States.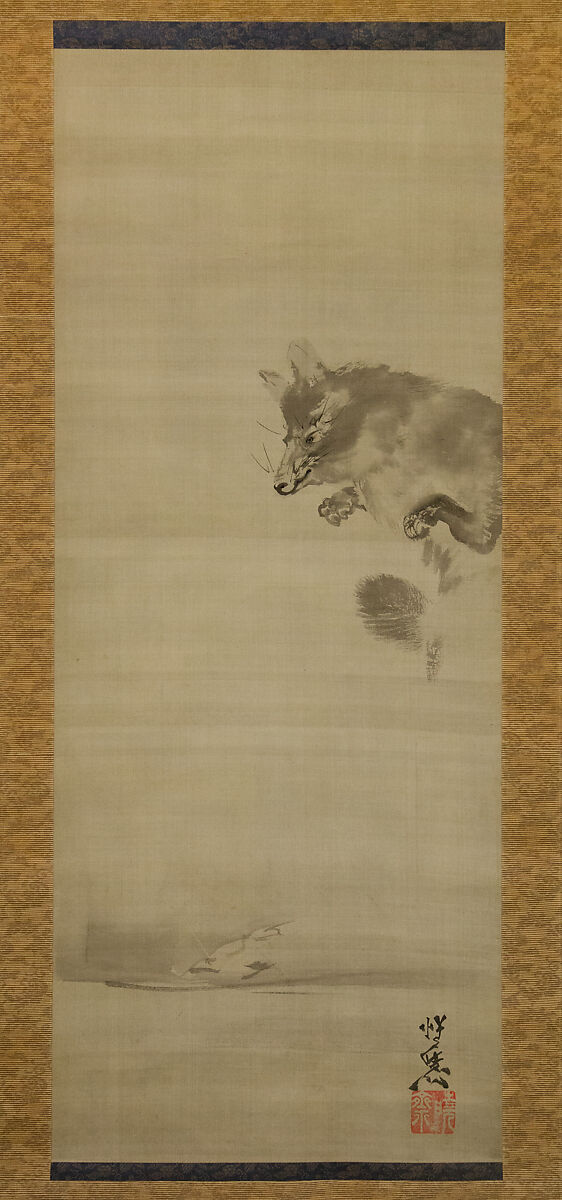 This artwork is meant to be viewed from right to left. Scroll left to view more.