Male warrior probably representing Mars
Not on view
Mars and its pendant bust of Minerva (2015.507.2a, b) evoke the classicizing subjects, bust-length formats, and style that originated in France during the reign of Louis XIV (1643–1715) and that concurrently was popularized across Europe. The busts' simple forms, stiff poses, and solemn facial types are consistent with the late Baroque sculptures that were carved in Flanders during this period. In Flanders, especially in Antwerp and Brussels, sculpture and architectural decoration traditionally was carved using combinations of native black marble (noir belge), mottled red marble (rouge belge), and white marble or alabaster. The use of these stones in colorful counterpoint speaks most strongly to the busts' Flemish origins.

The veneration of ideal heroes and heroines in ancient costume and arms took on extravagant form in the 17th century, with countless variations. Within this imaginative tradition, the identification of the pair as Minerva and Mars cannot be certain. The female bust, for example, could be identified as Bellona, Roman goddess of war, who is depicted in 17th and 18th century French paintings wearing flamboyantly plumed helmets and low-cut cuirasses that expose her breasts. Whatever their identities, the male and female warriors are portrayed as calm rather than bellicose beings. The sovereign pair does not threaten war but rather offers the assurance of peace achieved through martial readiness.

Boldly colorful and easily apprehended, Mars and Minerva probably were intended to make a strong, primarily decorative impact within a grandly embellished setting typical of the period.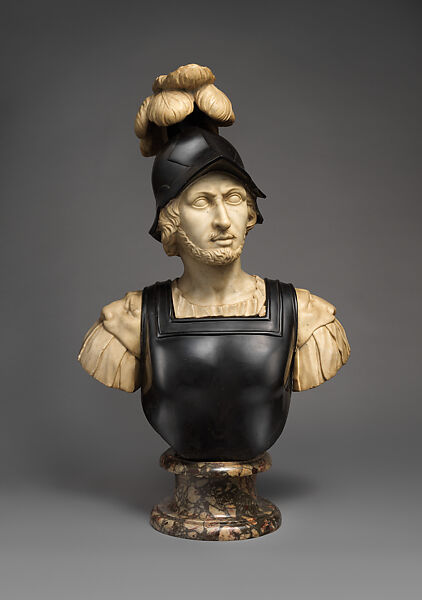 This artwork is meant to be viewed from right to left. Scroll left to view more.