Shōin Room
On view at The Met Fifth Avenue in Gallery 226
The grand Momoyama spirit is perpetuated in the formal Japanese reception room. Modeled on the principal room at the Kangaku-in, a guest residence built in 1600 at the Onjōji temple near Lake Biwa outside Kyoto, this shōin-style room was built in 1989 by Japanese craftsmen using materials and techniques authentic to the Momoyama period (1573–1615), under the exacting supervision of Kakichi Suzuki, an eminent architectural historian who was than an official of the Japanese Cultural Agency. The refined proportions of the room, with its large alcove (tokonoma), flooring of grass mats (tatami), and decorated sliding doors (fusuma) for walls, marked the culmination of two centuries of developments in interior architecture.

The shōin (literally, "study") was originally part of a reading room in a Zen monastery fitted with shelves and an alcove near a window. With the increased appreciation and collection of Chinese paintings and utensils during the Muromachi period (1392–1573), the alcove was enlarged and devoted to the display of works of art and the tokonama was developed to constitute an essential feature of Japanese formal rooms. This room's large size, with its capacious tokonoma filling one wall and its gold-leafed doors defining the others, is characteristic of the grand rooms of the Momoyama era in temples and aristocratic mansions as well as in the ostentatious castles of the newly risen war lords.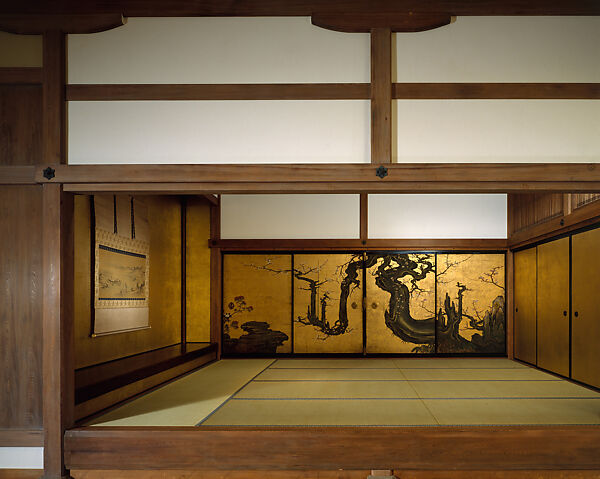 This artwork is meant to be viewed from right to left. Scroll left to view more.