On loan to The Met The Met accepts temporary loans of art both for short-term exhibitions and for long-term display in its galleries.
Rosary of Henry VIII and Katherine of Aragon
Not on view
Spectacularly complex in form and meaning, this set of prayer beads—known as a rosary—bears the Royal Arms of England as well as the tiny letters "He8" and "Ka," abbreviations for King Henry VIII and his first wife, who married in 1509.

Each of the small beads portrays one of the apostles, the twelve principal followers of Jesus, along with part of the text of the Apostles' Creed (a standard affirmation of Christian belief), a figure from Hebrew Scripture, and a Christian subject thematically linked to an event from Hebrew Scripture.

Bead 1: Last Judgment; Judgment of Solomon
Bead 2: God in Majesty; Christ Child in Glory; Habakkuk Feeding Daniel in the Den of Lions
Bead 3: Annunciation; Nativity; Death of Isaiah
Bead 4: Ascension; Transfiguration; Murder of Amos
Bead 5: Resurrection; Death and Elijah Raising the Widow's Son
Bead 6: Crucifixion; Entombment; David before the Ark
Bead 7: Members of the Church; Martyrdom of Jeremiah(?)
Bead 8: Descent and Harrowing of Hell; Death of Zachariah
Bead 9: Creation of the Heavens; Christ Child in the Sun; Moses Receiving the Tablets (Ten Commandments)
Bead 10: Baptism of Jesus; Pentecost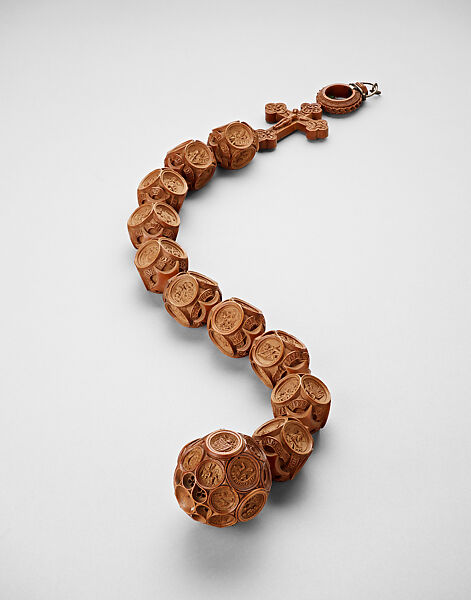 This artwork is meant to be viewed from right to left. Scroll left to view more.