Three Gods of Good Fortune Visit the Yoshiwara; or "Scenes of Pleasure at the Height of Spring"
Chōbunsai Eishi Japanese

Not on view
Chōbunsai Eishi, an artist of samurai descent who also created prints, illustrated several handscrolls showing patrons traveling to the pleasure quarters of Yoshiwara. In this and other versions, the artist added a twist by transforming some of the visitors into three of the Gods of Good Fortune—Ebisu, Daikoku, and Fukurokuju—and showing them revelling with courtesans in the bordellos. The inspiration for this theme seems to derive from a comic essay "Record of the Hidden Village" ("Kakurezato no ki"), written by Ōta Nanpo in 1781.

At the beginning of the scroll, in the section not shown, the Gods of Good Fortune travel by boat to the pleasure quarters in northeastern Edo (present-day Tokyo). They start at the foot of Yanagi Bridge, disembark at Sanyabori, walk along the Dike of Japan (Nihon Tsutsumi), and finally enter Yoshiwara.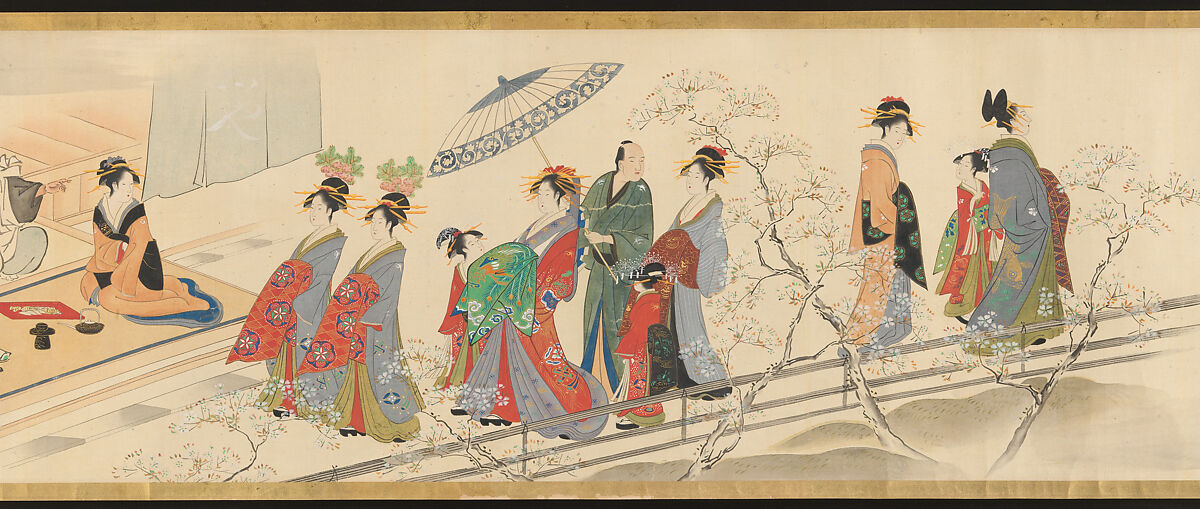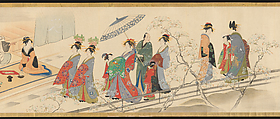 This artwork is meant to be viewed from right to left. Scroll left to view more.