Pair of Arm Defenses
Manufacturer New England Enameling Company, Inc. American

Not on view
Extant examples of these arm defenses are among the rarest of the types of experimental body armor designed by Dr. Bashford Dean (1867–1928) during World War I. Dean, the founding curator of the Metropolitan Museum of Art's Department of Arms and Armor, was commissioned as a Major of Ordnance in 1917 and assigned the task of developing practical helmets and body armor for use by allied troops during the war. He carried out the work simultaneously with his curatorial duties and with the key assistance of Daniel Tachaux (1857–1928), the Museum's first Armorer, who produced handmade prototypes following Dean's designs. Some of these were then put into limited production and sent to the Front for testing under battlefield conditions. As part of his research for this project, Dean made exhaustive analytical and statistical studies of the types of wounds being suffered by troops during the war and found that a high percentage of debilitating wounds occurred on the extremities. As a consequence, he was adamant about the importance and necessity of developing practical plate armor for the arms and legs. These arm defenses, based closely on sixteenth century plate armor, but streamlined and made of light ballistic steel, were Dean's best attempt at solving the problem. Developed late in the war, only a limited number were made, with about 200 pairs being sent overseas for testing in 1918.

Modeled after sixteenth century European vambraces, each arm defense comprises five shaped steel pieces: shoulder, upper arm, elbow, forearm and back of the hand. The five pieces of each arm defense are now separate, but they were originally joined into a single unit by longitudinal leather straps riveted to each plate. These straps are now missing except for fragments held in place by the rivets. There are two separate semicircular leather shoulder tabs that are designed to be laced to the top of each shoulder piece in order to secure the entire arm unit to a soldier's shoulder straps. There are transverse leather straps with snap catches, to adjust the fit of individual pieces, which remain on both upper arm pieces, both elbows, and on the right forearm. A single fixed transverse strap remains on the inside of each hand piece. A complete leather lining is present on the inside of the left hand piece, but is entirely missing from the right. All of the steel pieces are painted inside and out with a brownish green paint. Except for the hand plates, each of the pieces is fitted with an applied steel border around its edges.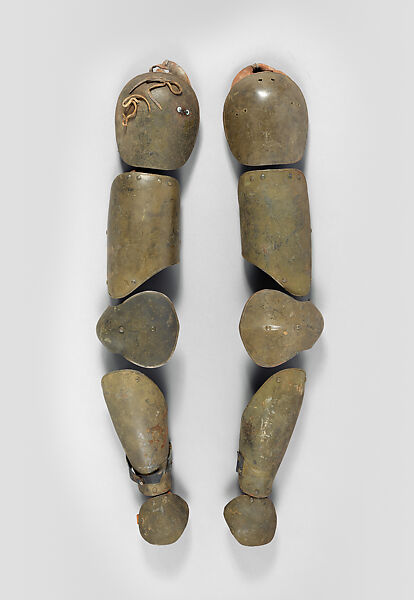 This artwork is meant to be viewed from right to left. Scroll left to view more.