Defense for the Neck and Shoulders (Necklet or Gorget)
Manufacturer New England Enameling Company, Inc. American

Not on view
Dr. Bashford Dean (1867–1928), the founding curator of the Metropolitan Museum of Art's Department of Arms and Armor, was commissioned as a Major of Ordnance in 1917 and assigned the task of developing practical helmets and body armor for use by allied troops during World War I. He carried out the work simultaneously with his curatorial duties and with the key assistance of Daniel Tachaux (1857–1928), the Museum's first Armorer, who produced handmade prototypes following Dean's designs. Some of these were then put into limited production and sent to the Front for testing under battlefield conditions. Among these field-tested production models, the defense for neck and shoulders was considered "the most practical of all body armor examined" (quoted from official reports in Bashford Dean, Helmets and Body Armor in Modern Warfare, Yale University Press, 1920, p. 240). Produced only in limited numbers, surviving examples of this neck defense are very rare.

This is a defense for the upper portion of the chest to the base of the neck and the tops of the shoulders at either side of the neck. It is formed from a single sheet of shaped manganese steel 0.038 inch to 0.040 inch thick. From the scooped opening at the neck the plate dips down in semicircular shape to cover the upper chest. The sides rise up in two arms or extensions that curve over the areas on either side between the shoulders and the base of the neck and have rounded ends. The right side is slightly scooped in and the extension is narrower in order to leave the right shoulder free to accommodate the butt of a raised rifle. There is a narrow applied border on the exterior edges of the plate. Each shoulder extension is pierced by a pair of holes, aligned vertically one above the other, and each rimmed with a copper alloy grommet. The steel is coated inside and out with original brownish green paint. On the interior at the bottom edge of the main plate there is a pad of sponge rubber in the shape of a rounded horizontal crescent about three quarters of an inch thick.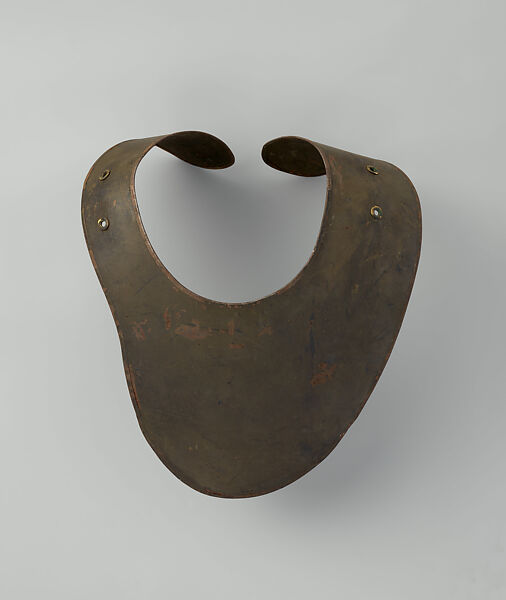 This artwork is meant to be viewed from right to left. Scroll left to view more.