The Unicorn Defends Himself (from the Unicorn Tapestries)
French (cartoon)/South Netherlandish (woven)
On view at The Met Cloisters in Gallery 17
Here the injured unicorn is being held at bay by three hunters ready to pierce him with their lances. The furious animal reacts with a gruesome attack on a greyhound before him, almost tearing the dog's body apart. The horn-blowing hunter at the lower left wears a scabbard with the inscription AVE REGINA C[OELI] (Hail, Queen of the Heavens). The huntsmen and other figures are garbed in the fashions of about the turn of the sixteenth century, including round-toed shoes and fitted bodices, and their headdresses and hairstyles also reflect contemporary tastes. The mastery of the weavers is evident in the convincing representation of different materials and textures in the costumes, such as brocade, velvet, leather, and fur.

In order to make the tapestries, plain wool yarns (the warp) were stretched between two beams of a large loom; a bobbin then brought dyed and metallic threads (the wefts) over and under the warp threads to create the design. Chemical analyses reveal that the dye pigments used in the Unicorn Tapestries came from such plants as weld (yellow), madder (red), and woad (blue), all of which are grown in the Bonnefont Cloister garden. With the aid of mordants, substances that help fix the dyes to fabric, these three primary colors were blended to achieve a dazzling spectrum of hues strategically highlighted by the addition of metallic threads.
#66. The Unicorn Defends Itself (from the Unicorn Tapestries)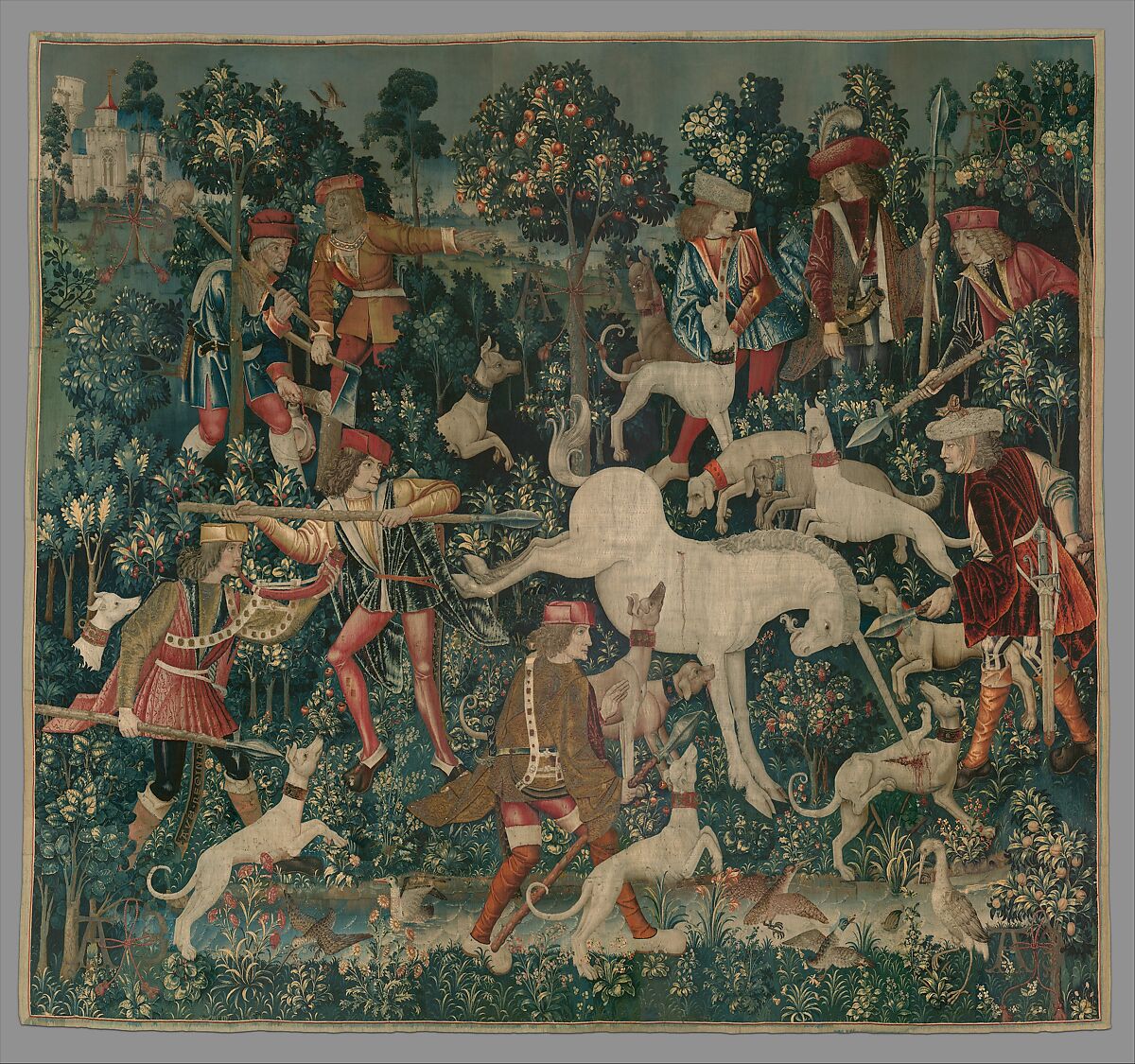 This artwork is meant to be viewed from right to left. Scroll left to view more.