On loan to The Met The Met accepts temporary loans of art both for short-term exhibitions and for long-term display in its galleries.
Prayer Bead with the Last Judgment and the Coronation of the Virgin
Not on view
Chaos reigns in the upper half of this bead, as angels at the sides sound the trumpet of the Last Judgment. Demons of different shapes and sizes delight in hauling away sinners. To create this scene, the artist carved and assembled multiple elements. The torments of hell are carved on a piece inserted into the disk from the bottom, and a tiny figure is set in the mouth of hell. Angels are slotted in at the sides, and the arc of heaven is also a separate element.

In the lower half, choirs of angels and saints watch as the Virgin Mary is crowned Queen of Heaven. The surrounding inscription, words sung by monastic choirs in the Middle Ages, adds to the celebratory atmosphere: "In the city of the Lord, there sound continually the organs of the saints; there is cinnamon and balsam, a most sweet odor; celebrate them."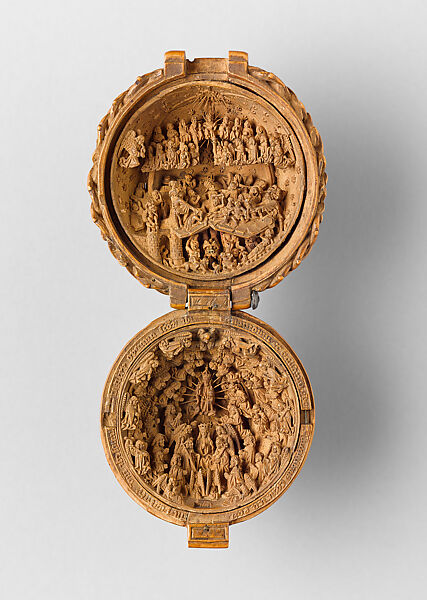 This artwork is meant to be viewed from right to left. Scroll left to view more.