Lyautey Unit Blocks (Play)
Yto Barrada Moroccan, born France

Not on view
The painted wood units assembled here spell LYAUTEY. The first Resident General of French-occupied Morocco from 1912 to 1925, Marshal Hubert Lyautey oversaw large-scale urban development programs, as well as wide-ranging surveys of the country's artistic practices and archaeological sites. In this period, he worked with French architect and urbanist Henri Prost (1874-1959) to direct the design and construction of colonial Rabat and Casablanca. French reliance on Moroccan expertise and labor was not generally acknowledged, while the new urban designs were intended to serve as experimental models for modern 20th century city-building in France and French colonies.

In this installation, Yto Barrada's building blocks evoke a city skyline or urban aerial view. At the same time, her presentation of Lyautey's modernization project in the guise of a children's toy introduces a latent sense of destruction and disorder, and raises questions around the role of aesthetics and style in a colonial context.

In the 1960s, writer Paul Bowles abruptly dismissed Casablanca's French-built Sacré Cour Cathedral (b. 1930–52), commenting: "The cathedral looks like something invented by a clever child using a set of expensive building blocks; it has no style whatsoever."[1] In fact, Lyautey's variant of the regionally popular "Arabisance" style applied in Casablanca emphasized the pared-down volumes and sharp contours of so-called Arab or Islamic art rather than the ornamental accents applied elsewhere to conjure a local flavor. The installation evokes this stylistic approach while relying on the typology of a conventional building block set.

[1] Paul Bowles, "Casablanca," Holiday 4, no. 3 (1966), p. 121.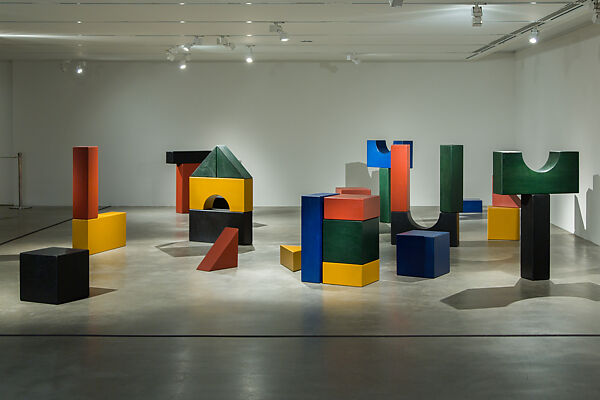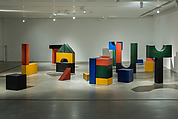 This artwork is meant to be viewed from right to left. Scroll left to view more.