On loan to The Met The Met accepts temporary loans of art both for short-term exhibitions and for long-term display in its galleries.
Winged Pectoral with Maya Hieroglyphic Text
Not on view
Created in Guerrero or Oaxaca, this pectoral represents the face of the Olmec Maize God. Hundreds of years later, probably in the first century a.d., a Maya ruler commissioned an artist to incise an image of him wearing regalia on the back of this revered heirloom. The accompanying text probably names the ruler and describes his accession. To emphasize his belief in the divine nature of his rulership, the Maya patron likely wore the pectoral with other jade regalia while impersonating the Maize God.



Este pectoral, fabricado en Oaxaca o Guerrero representa la cara del Dios del Maíz olmeca. Cientos de años más tarde, probablemente en el primer siglo d. C., un gobernante maya le encargó a un artista la grabación de su imagen en la parte trasera de su venerada reliquia de familia. El texto complementario probablemente nombre al gobernante y describa su entronización. Para enfatizar su creencia en la naturaleza divina de su gobierno, el jefe maya habría vestido el pectoral junto con otros ornamentos de jade, imitando así al Dios del Maíz.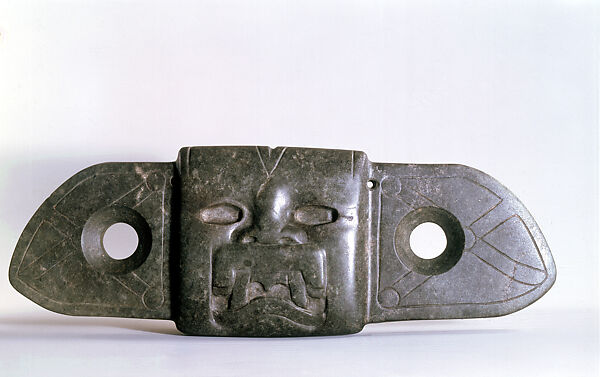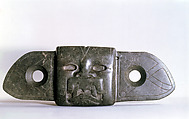 This artwork is meant to be viewed from right to left. Scroll left to view more.