On loan to The Met The Met accepts temporary loans of art both for short-term exhibitions and for long-term display in its galleries.
Conch Trumpet
Not on view
A Maya artist incised a portrait of an ancestor wearing an elaborate headdress onto the face of this conch-shell trumpet. A serpent head, symbolic of sacred breath, emerges from the ancestor's mouth. The sound from the trumpet would have been considered the thunderous music of the ancestor.



Un artista maya representó mediante incisiones a uno de sus ancestros vistiendo un tocado elaborado en la parte curva de esta trompeta de concha de caracol. Una cabeza de serpiente, símbolo del aire sagrado, emerge de la boca del personaje. La concha está perforada en uno de sus costados. Se podría considerar que cuando alguien tocaba la trompeta el sonido emitido se refería la música ensordecedora del ancestro.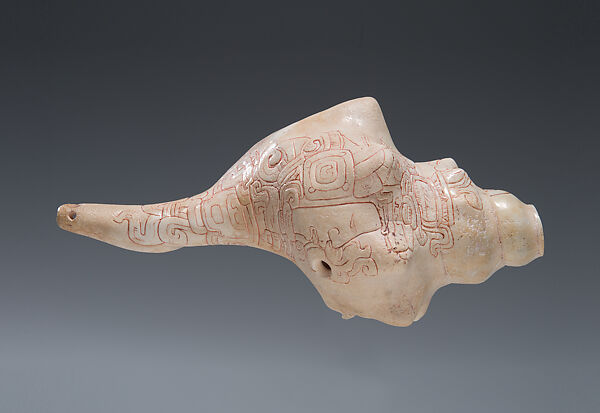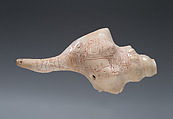 This artwork is meant to be viewed from right to left. Scroll left to view more.