On loan to The Met The Met accepts temporary loans of art both for short-term exhibitions and for long-term display in its galleries.
Upright bass
James Jamerson American

Not on view
James Jamerson was the most prolific session bass player in the Motown Records studio. Though he was uncredited on most recordings, his buoyant and melodic lines were a fundamental part of the "Motown Sound." This was his main instrument in sessions from 1957 to about 1961, when he switched to the electric Fender Precision bass (and on occasional songs thereafter). Jamerson's background on this bass led to his unusual technique of playing all his lines with his index finger, nicknamed "the claw." He may have played this instrument on the Marvelettes' "Please Mr. Postman" (1961), Mary Wells's "My Guy" (1964), and Martha and the Vandellas' "Heat Wave" (1963).

Technical Description:
Laminated plywood body, maple neck, ebonized wood fingerboard and tailpiece; ¾ size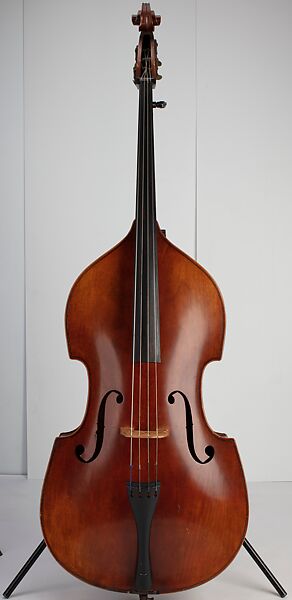 This artwork is meant to be viewed from right to left. Scroll left to view more.