Seven ponds and a few raindrops
Ranjani Shettar Indian

Not on view
Ranjani Shettar is an Indian sculptor based in the Southern state of Karnataka, India. Shettar combines natural and industrial materials like beeswax, wood, organic dyes, vegetal pastes, lacquer, steel, and cloth, in her large-scale installations. Usually composed of numerous non-representational forms, Shettar creates immersive environments inspired by her observations of the now threatened natural environs of rural India. Each component of Shettar's installations are individually finished by her and have a deliberately rough feel to them.

In Seven ponds and a few raindrops (2017), Shettar has molded pieces of salvaged stainless steel into a series of sensual, curved, and amoebic-like shape shifting-elements that have been covered in tamarind stained muslin. Her technique of staining the cloth with a natural paste is derived from a craft tradition she observed in the small village of Kinnala. Suspended from the ceiling, Seven ponds and a few raindrops seems to defy gravity, casting a series of mesmerizing shadows, and from a distance evokes the sense of having stumbled upon a surreal, hidden away oasis. Yet it is the empathically material quality of the work that disrupts the lyrical illusion of undisturbed, dreamlike tranquility and perfection.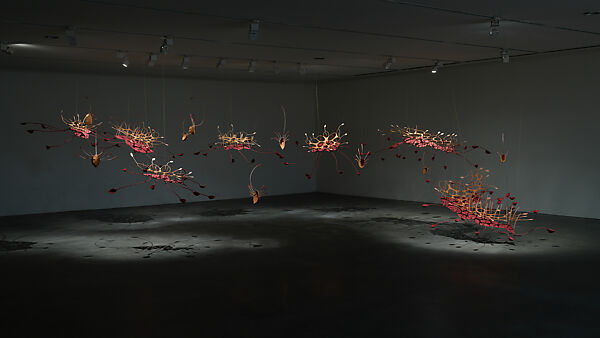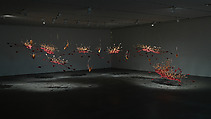 This artwork is meant to be viewed from right to left. Scroll left to view more.