Nine Feathered Panels
Not on view
In 1943 a cache of ninety-six feather panels was found in the Churunga Valley. The panels had been rolled up and placed in ceramic jars that were then buried at a ceremonial center. Each panel is densely covered with tens of thousands of feathers, primarily from the blue-and-yellow macaw, which lives in the Amazonian rainforest. The feathers were individually hand-knotted onto cotton strings and then stitched onto plain-weave cotton panels. These panels, nine of which are shown here, may have once adorned the walls of a building.


En 1943 fue encontrado un grupo importante de aproximadamente noventa y seis paneles de plumas en el valle de Churunga, en la costa Sur de Perú. Los paneles fueron enrollados y guardados en grandes vasijas de cerámica que luego fueron enterradas en un centro ceremonial conocido como Corral Redondo. Cada panel fue densamente cubierto con decenas de miles de plumas, principalmente plumas de guacamayo azul y amarillo, un ave que vive en la selva tropical amazónica. Las plumas fueron atadas a hilos de algodón una por una y a mano. Luego fueron cosidas a paneles lisos de tela de algodón. Es probable que estos paneles, de los cuales nueve están presentados, hayan adornado alguna vez las paredes de un edificio.


Further information
The discovery of an ancient burial or ceremonial site in the upriver region of the Churunga Valley, in far south Peru, received little attention in the turbulent world of 1943. Decades later, it would take two generations of Andean scholars to painstakingly piece together the puzzling story of this discovery, which included the largest and most spectacular find of Precolumbian Peruvian feather work to date.

Protected from decay by being rolled, placed into large ceramic jars, and buried in the arid soil, the cache included an estimated ninety-six panels, each densely covered with tens of thousands of small glossy macaw body feathers, primarily from the blue and yellow macaw (Ara ararauna). Although these panels were found in the dry western foothills of the Andes, the birds' home is the Amazonian rainforest, far to the east. The effort required to secure such a mind-bogglingly large supply of either feathers or live birds suggests that colorful feathers were highly valued.

The panels are of roughly similar dimensions, and the majority feature alternating rectangles of blue and yellow feathers, which came from the macaw's dorsal and ventral sides, respectively. The panels have a woven heading tape, and most also include braided cords that hang from the narrow sides. Although the cords suggest that these works were meant to be secured to some kind of structure, their actual function remains frustratingly illusive.

Christine Giuntini, Conservator, 2016

References
Bird, Junius B. 1958. Art of Ancient Peru: Selected Works from the Collection. Checklist with commentary of an exhibition at the Museum of Primitive Art, Feb 19–May 18, 1958. New York: Museum of Primitive Art. (unpaginated)

King, Heidi. 2013. "The Wari Feathered Panels from Corral Redondo, Churunga Valley: A Re-examination of Context." Ñawpa Pacha, Journal of Andean Archaeology 33 (1): 23–42.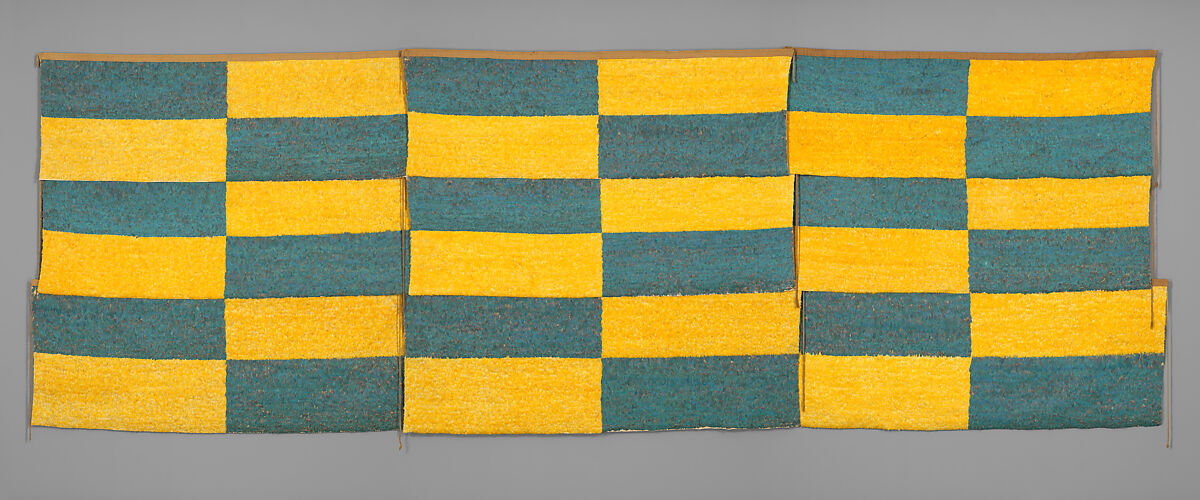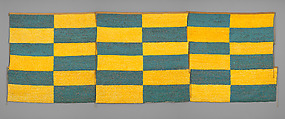 This artwork is meant to be viewed from right to left. Scroll left to view more.