On loan to The Met The Met accepts temporary loans of art both for short-term exhibitions and for long-term display in its galleries.
Precision (serial no. 0043)
Not on view
Leo Fender introduced the Precision bass (commonly known as the P-bass) in 1951. Named for the precise intonation enabled by its fretted neck, the P-bass was the first commercially successful electric bass guitar and set off a revolution in popular music. Jazz bassists could compete with the high volumes of big bands, and guitarists could double on bass without the struggle of learning a cumbersome fretless instrument. This bass is one of the first five P-basses made by Fender, identifiable by the cracking lacquer on its Bakelite pickguard, and was previously in the collection of the Who's John Entwistle.

Technical Description:
Ash body, one-piece maple neck with walnut skunk stripe; 34 in. scale; blonde finish; bolt-on neck with black dot inlays; silver "spaghetti" Fender logo decal on headstock; one single-coil pickup with volume and tone controls; composite adjustable bridge with string mutes in "ashtray" cover, clover leaf tuners, and knobs, black Bakelite pickguard with cracking lacquer and finger rest on upper treble bout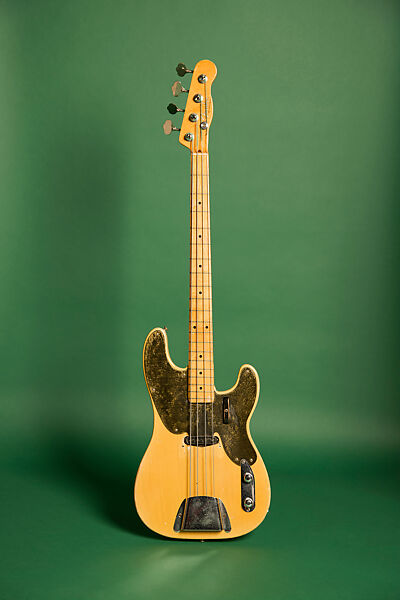 This artwork is meant to be viewed from right to left. Scroll left to view more.