Returned to lender The Met accepts temporary loans of art both for short-term exhibitions and for long-term display in its galleries.
Couplet
Calligrapher Zhao Zhiqian Chinese

Not on view
清 趙之謙 篆書 對聯 紙本

One of Zhao Zhiqian's great accomplishments was the revival of seal script, an ancient script that served as China's main form of writing from around 1200 B.C to 200 B.C. Seal script is onerous to write: it requires the calligrapher to move slowly and maintain a regular line width while making tortuous turns of the brush. This is why it was abandoned in favor of faster forms of writing and, in part, why it was so attractive to calligraphers like Zhao, who enjoyed the challenge posed by this old-fashioned way of writing. Zhao's sinuous line is inspired by ancient seal script, but, here, his calligraphy is a creative interpretation that combines elements of other scripts, such as strokes that flare or taper toward the end.

The text (translated and transcribed in standard script below) is a poem composed from two separate works by Gong Zizhen (1792–1841).

Right: Do not rashly claim the prestige that Xie [An (320–385)] had in his time.
Left: Just set your own fashion, and do not be a teacher of it.


別有狂言謝時望
但開風氣不為師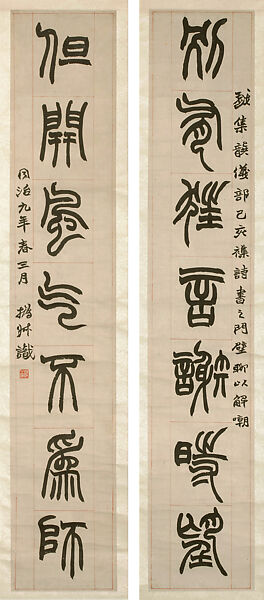 This artwork is meant to be viewed from right to left. Scroll left to view more.