Ball gown
Designer Charles James American

Not on view
Charles James produced some of the most memorable garments ever made. He began his design career in the 1930s. It peaked between the late 1940s and mid- 1950s, when his scarce and highly original gowns were sought after by society's most prominent women. Personally draping and constructing the garments that bear his label, he is considered to be the only American to work in the true couture tradition. James saw himself as an artist and sculptor of dress rather than a dressmaker. He manipulated fabrics into dramatic shapes using complex seaming and sometimes complicated understructures to create his singular vision of timeless elegance. A master of the relationship between form, color and texture, he often heightened the drama of his evening wear by combining several like fabrics of different colors, or different fabrics in like colors but with different light reflective qualities. Also a perfectionist, he worked for years on refining certain seam lines, shapes and constructs that particularly expressed his vision of artistry through rigorous engineering. Many of his pieces are conceived asymmetrically and possess a sense of movement and vitality that is a signature characteristic of his work. Many historical references in shapes and construction, especially the drapery forms of the 1870s and early teens, are also prevalent throughout his work.

One of the evening gowns featured in the legendary Cecil Beaton photograph published in Vogue, March 1948, this has become one of James' iconic designs. It was designed in collaboration with Millicent Rogers. Evocative of the most intimate part of the feminine anatomy, the construction of the skirt front suggests fertility and seduction, a theme reinforced by the cutaway overskirt that references the open robe and petticoat of the eighteenth century.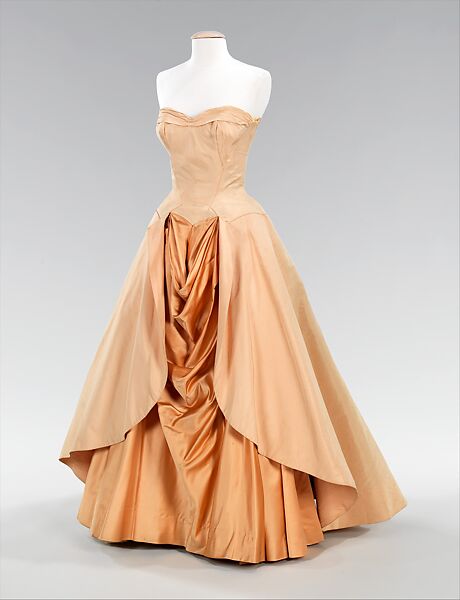 This artwork is meant to be viewed from right to left. Scroll left to view more.