Evening dress
Design House Callot Soeurs French

Not on view
In the Directoire revival, the waistline was raised in the manner of a century earlier, but with corsetting that had the vestiges of the monobosom. Perhaps even more importantly, the silhouette reflects Europe's examination of Eastern dress, the softness, raised waist, and lower bust stance suggesting "ukiyo-e" prints and other Japanese style.

Attuned to the Orientalism of the decade, Callot Soeurs reined the silhouette into a cylindrical wrap, effortless in lingerie-weight fabric. Yet, for its innovations, the work of Callot Soeurs does not stint the couture's roster of technical skills. Here, sequins vary: some are punched into a filigree pinwheel, others are hammered flat; in some instances metal is overlaid onto faceted crystal. But even this ornamentation is not entirely for the pleasure of diversity, but for the calculated and magical effects of such varied surfaces seen in evening and candle lights.

Speaking of her training with Callot Soeurs, Madeleine Vionnet coyly commended its quality, saying, "Without the example of the Callot Soeurs, I would have continued to make Fords. It is because of them that I have been able to make Rolls Royces." Indeed, without Callot Soeurs' tunics and soft dresses of the 1910s and 1920s, Vionnet's innovations are unimaginable.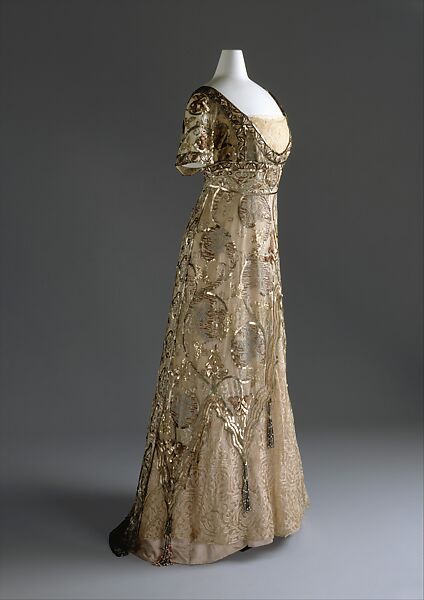 This artwork is meant to be viewed from right to left. Scroll left to view more.