Evening dress
Design House Dolce & Gabbana Italian

Not on view
Though Milan may have emerged into the global market as a center of futurism, technological progress, and industrial chic, Domenico Dolce and Stefano Gabbana have immortalized the fashion center as an emblem of Italy's dramatic and sensual roots as well. The duo founded their fashion house in 1982, enjoying their first distinctive success with an inclusion in the "new talents" category of the 1985 Milan shows. Acclaimed over the last twenty years for bold interpretations of the corset, reinventions of the leopard print, and inclusions of overly feminine details like a chiffon scarf or lace trim in severely constructed bodices and dresses, Dolce & Gabbana design clothing suited for the feminine icon. While contemporary celebrities such as Madonna, Isabella Rossellini, and Linda Evangelista are Dolce & Gabbana patrons, the house also creates for the traditional mid-century Italian ideal embodied by icons like Sophia Loren. The aesthetics inspired by Dolce's Sicilian roots underscore many of the company's collections, most notably in the use of a signature black lace that recalls southern Italian folk costume and now connotes an alluring if inaccessible sensuality.

With this piece, Dolce & Gabbana typically exhibit a dramatic late twentieth-century evening wear line while alluding to the ostentation of eighteenth-century European decorative arts. Handpainted silk dresses were the ne plus ultra of the eighteenth century; this gown perpetuates this exclusive artistry by employing the reversal of a black field. Dolce & Gabbana have often been deemed neorealists by the fashion press for their street-style influences, but this opulent garment with its bas-relief acrylic paint embodies the fantastical elements of decoration and exhibits an adherence to the celebrated forms of twentieth-century couture.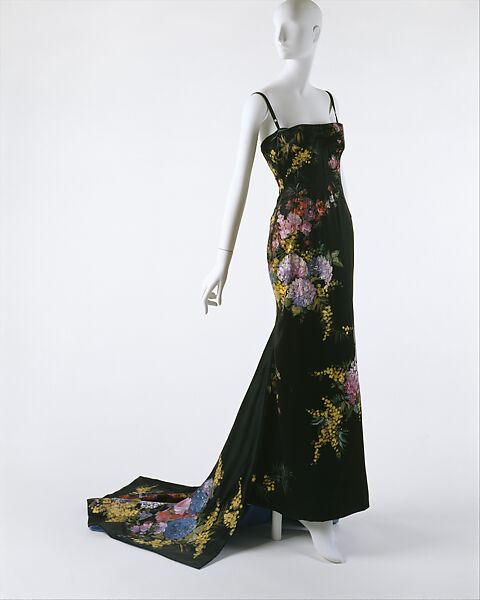 This artwork is meant to be viewed from right to left. Scroll left to view more.