House of Cards (5 Panes)
Gerhard Richter German

Not on view
House of Cards (5 Panes), is part of Richter's long-standing practice of working with mirrors and glass. Although they are perhaps a lesser-known part of his oeuvre, the glass and related mirror works have always been connected to Richter's painting practice. The transparency of glass and the reflectivity of mirrors has a deep history in western painting, as a window onto the world, or a reflection of society. But Richter effectively voids these traditional paradigms of painting as window or mirror in a wide-ranging practice which includes paintings based on photographs, which are then are blurred, and abstract works created by dragging paint across the surface of canvases with a squeegee. He even upends the idea of the modernist monochrome noting of his colored mirror works: "In the case of the colored mirrors, the result was a kind of cross between a monochrome painting and a mirror, a 'Neither/Nor'—which is what I like about it."

Richter has been making glass works since very early in his career; the first one he made – 4 Panes of Glass, was in 1967 (Herbert Foundation, Ghent). He has been interested in the capacity of such works to engage with ideas of the shifting nature of perception and consequently meaning, through their multiple framings, refractions, and reflections. House of Cards (5 Panes) continues this artistic investigation, for when installed, visitors can walk around it, and through the process of circumambulation, the work is put into active dialogue with the other works in the gallery and the surrounding architecture.

The apparent precarity of House of Cards (5 Panes) is also relatable to Richter's paintings which confirm and disrupt photography's claims to "realism," as is evident in his deployment of his signature blur or the agitation of the painted surface through other means. These confirmatory framings and disruptions can also be understood as akin to the instability of perception that House of Cards creates, with its multiple reflections and refractions, that are perceptible when you view it, or view through it. It also brings into relief certain differences with another similarly titled work by the American artist Richard Serra – One Ton Prop (House of Cards) (1969, Museum of Modern Art, New York), for where Serra was interested in the structural limits of its constitutive material—lead—for Richter, it is the imagistic effects of glass that are of principle concern.

This dual transparency and reflectivity of glass that Richter explores in House of Cards (5 Panes) makes it also readable as an engagement with the utopian hopes projected onto early 20th century glass structures by the likes of German architects such as Bruno Taut. At the same time, the work's gestured instability and ability to fracture the visual plane counters the purported values of the transparency of glass as evident in the International Style so pervasive amongst the architecture of the midcentury and in corporate American buildings.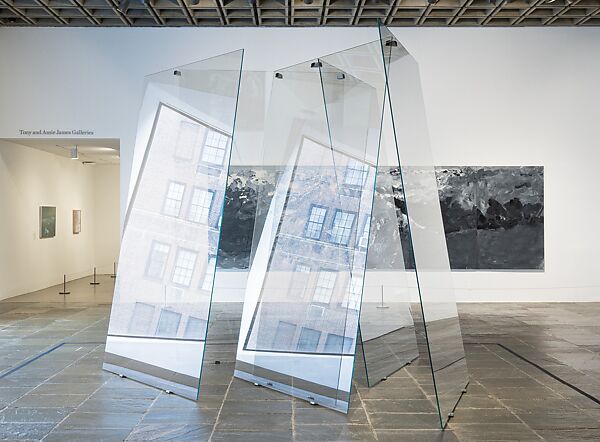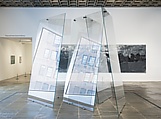 This artwork is meant to be viewed from right to left. Scroll left to view more.