Untitled (Plaster Table)
Rachel Whiteread British

Not on view
By casting the negative space of common objects, Whiteread transforms it into a positive. Through the literal description of absence and the careful selection of materials, such as polyurethane, plaster, and rubber, the artist produces sensorial associations that underline the tangibility of the object's ghost. The commonality of the objects she chooses—tables, chairs, bookcases, stairs, and whole interiors—stresses their duality: on one side nostalgic or comforting and on the other sinister or haunting. For the artist, architecture and the objects that occupy its space operate both for its current occupants and those who historically inhabited them.


For some five years in the mid-1990s, as she began to contemplate several monumental commissions, including the Holocaust Memorial for Vienna's Judenplatz (completed in 2000), the artist cast the undersides of a number of different tables and chairs, installing them in various gridded or linear arrangements. Untitled (Plaster Table) belongs to a group of plaster casts along these lines, the largest of which, Untitled (Ten Tables) (1996, Yale Center for British Art) formed the centerpiece of her installation in the British Pavilion for the 1997 Venice Biennale. As a whole these works demonstrate Whiteread's continued interest in imbuing the serial forms of minimalist sculpture with the grain and emotional residue that comes with casting domestic objects. Untitled (Plaster Table), a pivotal work in Whiteread's practice, encapsulates all of the layering of reference, attention to form and facture, and seriality that marks her most resonant, mature works.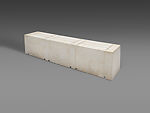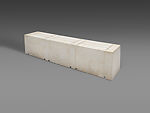 This artwork is meant to be viewed from right to left. Scroll left to view more.