Seated Female Nude
Pablo Picasso Spanish

Not on view
Seated Female Nude presents a nude female form, sitting on what appears to be a stool, holding a cloth between her bent legs. The discomfort of her pose, as her torso twists and contracts, is enhanced by the various perspectives depicting the figure. It is also furthered by Picasso's elisions and extensions of her torso: for instance, he painted out the area under her breasts and on the top of her right thigh but left her stomach and left thigh ill-defined; he elongated the model's stiff left hand far past her right, while implausibly bending her left leg at the shin. Patterns of repeating curves and of highlights and shadows freed from the obligation to define form render the model's body as a site of Picasso's sculptural experimentation.

Seated Female Nude offers a clear view into Picasso's formulation of Cubism in the early months of 1908. Its monumental figure, modeled in passages of dark green, warm browns, gray, and black, and set within an angular spatial niche, demonstrates the two prime influences on the artist at the time—the art of Africa, Iberia, and Oceania, and that of Paul Cézanne, who Picasso once called "my one and only master."

Picasso's fascination with non-Western art (what he and his colleagues would have called "l'art negre")—indeed the fascination of many avant-garde artists in the first quarter of the twentieth century—is legendary and much documented by historians. Starting in 1907, when the artist first visited the Musée d'Ethnographier du Trocadéro in Paris, Picasso recognized in the works displayed there a new path for his artistic explorations. "Painting isn't an aesthetic process," he would explain later, when reflecting upon his first experience at the museum, "it's a form of magic designated as a mediator between this strange, hostile world and us…. When I came to that realization, I knew I had found my way." Soon after and for the better part of 1908, Picasso explored African, Iberian, and Oceanic art in museums and private collections, acquired works for himself, and channeled his observations into the increasingly faceted forms and earthy tones of his paintings and roughly hewn carvings. Perhaps most noteworthy was his experience in the Jardin des Plantes, where a monumental head from Easter Island was installed under a portico at the Muséum national d'histoire naturelle. From the eyewitness accounts of Fernande Olivier, Picasso's companion at the time, we know that the artist visited the site often with the sculptor, Georges Deniker.

Equally important to these early developments in Picasso's work was the 1907 Salon d'Automne honoring the recently deceased Cézanne. This retrospective exhibition of fifty-six paintings and watercolors was a watershed event for many young artists in Paris. Most revelatory were Cézanne's late, monumental bather compositions—such paintings as Large Bathers (1907, Philadelphia Museum of Art), with its solid figural forms, architectural structure, disrupted surfaces, expressive distortions, and productive discontinuities merged within a classical, Arcadian theme. Picasso, who already owned a lithograph of this painting, was spurred by the exhibition to produce more works on the bather theme: in 1908, the year following the completion of Les Demoiselles d'Avignon (Museum of Modern Art, New York), Picasso made at least thirty such paintings and drawings.

Seated Female Nude also belongs to this moment: here, the figure even holds a cloth, much like one of Cézanne's bathers. While Picasso typically rendered his figures with thick brushstrokes, heavy with rusty brown and tan paint, the present canvas is painted in gauzy layers of scumbled strokes and thin washes of browns and tans. It also features a background palette of greens and gray, which relates to the numerous landscapes Picasso would make in the spring and summer of 1908. The figure in Seated Female Nude, with her mountain-like form, uniquely represents a bridge between these two paths of Picasso's work in 1908.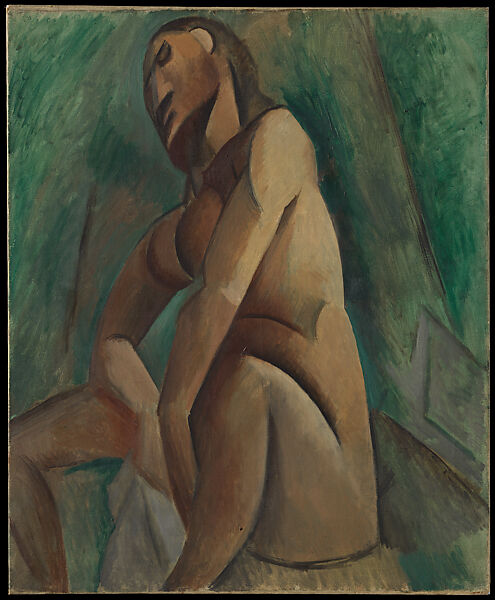 This artwork is meant to be viewed from right to left. Scroll left to view more.