Evening jacket
Design House House of Schiaparelli French
Designer Elsa Schiaparelli Italian

Not on view
While Mademoiselle Cheruit had her "smokings," a fitted jacket ensemble for early evening affairs, Schiaparelli was the most famous purveyor of the cocktail-appropriate dinner suit. Her suit consisted of a bolero or flared jacket that could be removed for the evening, and a sleeveless sheath dress. Unlike the previous decade, the 1930s dictated different skirt lengths for different hours: the silk, rayon, or wool crepe sheath of the dinner suit was steadfastly ankle or "cocktail" length.
Schiaparelli's dinner jackets changed the outline of women's fashion from soft to hard, from feminine to masculine during the mid- to late 1930s. The basic silhouette, which comprised wide shoulders and a narrow waist, first appeared in her autumn/winter 1931–32 collection entitled "Wooden Soldiers," which was inspired by the Indo-Chinese costumes featured in the 1931 Exposition Coloniale in Paris. The extended shoulders, achieved through padding, became hugely influential in Hollywood, helped along by international café society darlings like Lady Mendl (Elsie de Wolfe), Mrs. Reginald (Daisy) Fellowes, and the Duchess of Windsor.
During a trip to America, Schiaparelli commented, "In Hollywood, one special item of popularity had preceded me—that of the padded shoulders. I had started them to give women a slimmer waist. They proved the Mecca of the manufacturers. Joan Crawford had adopted them and molded her silhouette on them for years to come. They became emphasized and monstrous. Adrian took them up with overwhelming enthusiasm."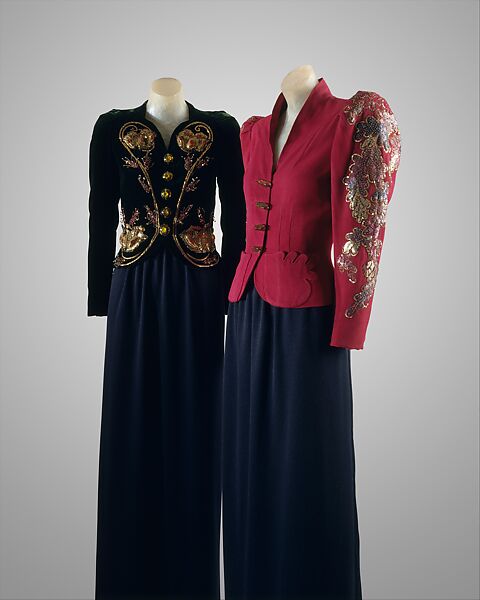 This artwork is meant to be viewed from right to left. Scroll left to view more.