Returned to lender The Met accepts temporary loans of art both for short-term exhibitions and for long-term display in its galleries.
Vessel with mythological scene
Not on view
Maya artists relished humorous mythical episodes that at the same time conveyed profound meanings related to the origin of the gods, the world, people, and social institutions. On either side of this vessel, Itzamnaaj is awkwardly poised astride a peccary (a wild pig) and a deer. As in a modern comic strip, a fine, undulating line links his lips to his words, asking a man for directions in pursuit of a runaway—the aim of the old god's amusing chase.

Vasija con escena mitológica
Belice o Guatemala
Siglo VII al VIII
Cerámica policromada

Los artistas mayas se deleitaban con los episodios mitológicos graciosos, los cuales también transmitían profundos significados relacionados con el origen de los dioses, el mundo, los pueblos y sus instituciones sociales. En esta vasija se distingue a Itzamnaaj torpemente montado en un pecarí y un venado. Como en un cómic, una línea fina y ondulante une sus labios con sus palabras, que le preguntan a un hombre por dónde se fue el fugitivo al que está persiguiendo.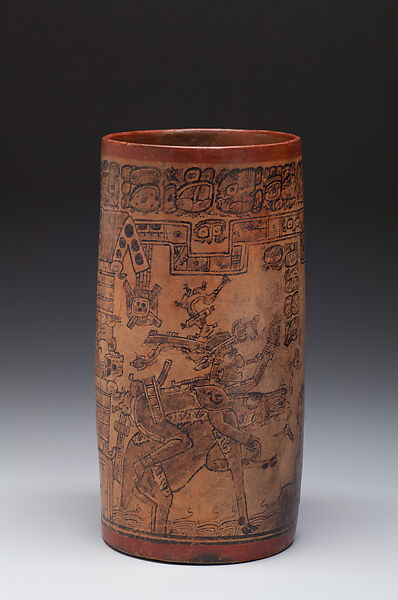 This artwork is meant to be viewed from right to left. Scroll left to view more.