Returned to lender The Met accepts temporary loans of art both for short-term exhibitions and for long-term display in its galleries.
Head of aged being
Not on view
Artists displayed great imagination in the creation of grotesque creatures. This finely modeled head with luxurious blue paint range from the nearly human to the decidedly fantastic. Their wrinkled faces and toothless mouths evoke old age, in a departure from standard, dignified representations of respected elders and aged gods. Surely perceived as strange, perhaps even amusing, these heads belong to the realm of the wondrous and sometimes fearsome supernatural beings that populated Maya views of the world.

Cabeza de ser anciano
Casa del Coral, El Mirador, Guatemala
Siglo VII al IX
Estuco


Los artistas mostraban gran inventiva cuando se trataba de representar criaturas grotescas. Este cabeza cuidadosamente modelada y con toques de pintura azul van de lo casi humano a lo definitivamente fantástico. Las caras arrugadas y desdentadas, que marcan la edad avanzada, se alejan aquí de la representación usual, respetuosa y digna, de la vejez y las deidades ancianas. Seguramente consideradas extrañas, e incluso divertidas, estas cabezas corresponden al dominio de las criaturas sobrenaturales, maravillosas y a veces temibles, que abundan en la visión maya del mundo.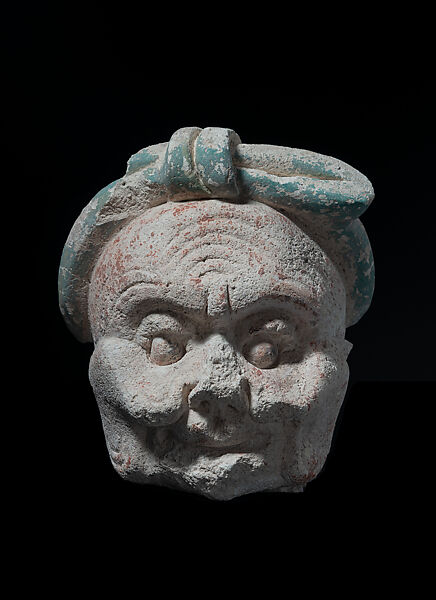 This artwork is meant to be viewed from right to left. Scroll left to view more.