Evening ensemble
Designer Madame Grès (Germaine Émilie Krebs) French

Not on view
During the mid- to late 1930s, ethnic clothing traditions exerted a powerful influence on fashion. borrowed from a multiplicity of cultures, using elements from the cut of saris, dhotis, caftans, and kimonos. For this "Pagoda" dinner jacket, she drew inspiration from the jackets worn by Balinese dancers. Appropriately, it was made specifically for the Spanish dancer Argentina.
The lining revealed at sleeve cuffs and collar is the verso of the brocade with embroidered hummingbirds. The structure of the wired hoops that articulate the flare of the jacket is in marked contrast to the pliable shaping of cuffs and neckband, a shirred modified mandarin collar. Typical of Alix's use of asymmetry for its poised disequilibrium, the jacket's center front opening is shifted to the left of the body.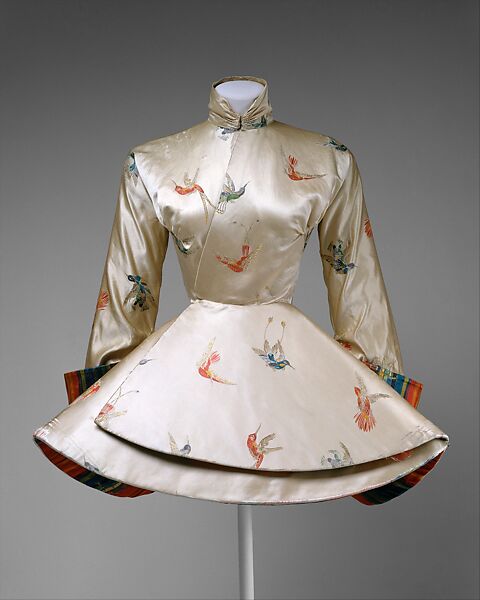 This artwork is meant to be viewed from right to left. Scroll left to view more.