"Pisanelle"
Design House House of Dior French
Designer Christian Dior French

Not on view
With his "New Look" collection of 1947, Christian Dior brought romanticism back to the catwalk. His cinched waists and full, mid-calf-length frocks enforced a demure feminine aesthetic. The cocktail hour began to represent universal social identities for women: the matron, the wife, and the hostess. Cocktail parties rose to the height of sociability, and cocktail clothing was defined by strict rules of etiquette. While invitees were required to wear gloves, the hostess was forbidden the accessory. Guests were obligated to travel to an engagement in a cocktail hat (which had retained the veil made popular in the 1940s), but they were never to wear their hats indoors.

"Pisanelle," dating just a few seasons after Dior's famed "New Look" and his iconic hourglass "Bar" suit, represents the drama imbued in his controversial silhouette. Dior aptly admired Italian Renaissance artist Antonio Pisanello (ca. 1395–ca. 1455) for his refined attention to detail and his fascination with clothing materials; the painter often represented complicated fabrics and clothing treatments in his frescoes and in obsessive details in his drawings. In this ensemble, the skirt plays on mat and shiny surfaces to create a sense of the waist-sash as trompe-l'oeil bow and the gores of the skirt as streamers.

The silk velvets and satins in this piece, though not atypical for cocktail attire, were often reserved for an evening wear cut before the 1950s; due to the prominence of the cocktail hour in material culture reference, the term "cocktail dress" was applied on the basis of its accessory items and was no longer dependent on the garment's construction.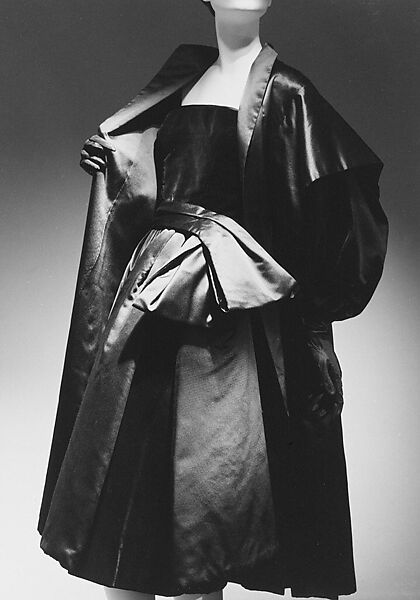 This artwork is meant to be viewed from right to left. Scroll left to view more.