Dress
Design House House of Chanel French
Designer Karl Lagerfeld French, born Germany
Secondary Line Chanel Boutique French

Not on view
Created by Coco Chanel in 1926, the little black dress was translated to ready-to-wear as a staple of late afternoon and cocktail hours; American women at every level of consumption knew the importance of a practical, "well-mannered black." Black had been used for formal and semi-formal occasions in preceding decades. But when Chanel administered her sporty menswear-inspired silhouette, her little dress was immediately dubbed the "Ford of Fashion" by American Vogue for its transformative qualities. The little black dress became a minimalist canvas for day, cocktail, and evening accessories, including hats, gloves, pocketbooks, and above all else, costume jewelry. As the silhouette of the little black dress evolved to accommodate the fashionable shape of each consecutive decade, it became more of a social institution than a design.

Though the original was constructed in a reserved black crepe de chine, Karl Lagerfeld, who became head designer for the House of Chanel in 1983, executed this little black dress from autumn/winter 1987–88 in a fetishistic black vinyl and black polyester jersey combination. Lagerfeld infuses a controversial, modern persona into the 1920s silhouette (with dropped waistline, flounced knee-length skirt, and modest cocktail neckline) that first brought Coco fame. The design embodies the irony of the late twentieth-century "cocktail" outfit. In the postmodern aesthetic, the cocktail outfit seems to dress only the runway, professing nostalgia for submissive femininity or parading a tongue-in-cheek social commentary.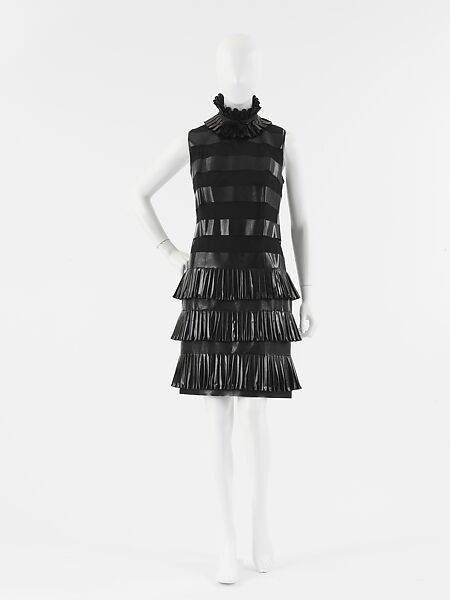 This artwork is meant to be viewed from right to left. Scroll left to view more.