Livro Noite e Dia (Book of Night and Day)
Lygia Pape Brazilian

Not on view
In 1959, Brazilian artists Lygia Pape, Hélio Oiticica, and Lygia Clark, among others, founded the Neoconcrete movement in Rio de Janeiro, seeking a more informal approach to the geometric vocabulary of Concrete art. In a profound spirit of experimentation, Neoconcretism attempted to expand the notion of the work of art by merging it with the surrounding space and the contingencies of everyday life, further enabled by taking into account the viewer's active participation. Within the wider development of mid-century modernism, the movement represented a step further in the search for an artistic vocabulary inspired by the concrete-constructivist legacy of the European avant-gardes that had set down roots in Brazil a decade earlier.


Keen to embrace a wide range of artistic disciplines, Pape experimented with combining different media, as demonstrated in the fusion of mural painting, relief, and bookmaking in Book Night and Day. Comprising thirty wall-mounted squared relief pieces, Book of Night and Day is a subset of a mural consisting of 365 component parts that represent the 365 days of the year. Each element was sawn from a square board, with the cut fragments reattached to their respective squares and painted distinctively in a reduced palette of white, gray and black. Displayed in a structured sequence on the wall, the rhythmic concatenation of forms and colors subverts the modernist form par excellence—the square—via its multiple variations.


Pape created a series of "books" infused with referencing chronological temporality, in which the physical units emphasize an infinity of variations that question a linear perception of time, as well as challenging the conventions of the picture plane. Like a page in a book, each relief unit in Book of Night and Day is unique in its design. When accumulated, unit and page generate a larger narrative. The many possible arrangements of Book of Night and Day–an orthogonal structure, aligned in one row, or in an explosive fashion–allows for innumerable "readings" by the viewer; these readings are spatial and open-ended in nature.


The seemingly endless potential of Book of Night and Day to generate new viewings and meanings recalls the concept of the opera aperta (open work) theorized in 1962 by Italian philosopher and writer Umberto Eco. In its "openness," the work signals a pioneering shift towards the idea of multiplicity in art (fragmentation, plurality) and the unresolved nature of a form (or a text). It also insists on the interactive process between viewer and artwork during the act of reading.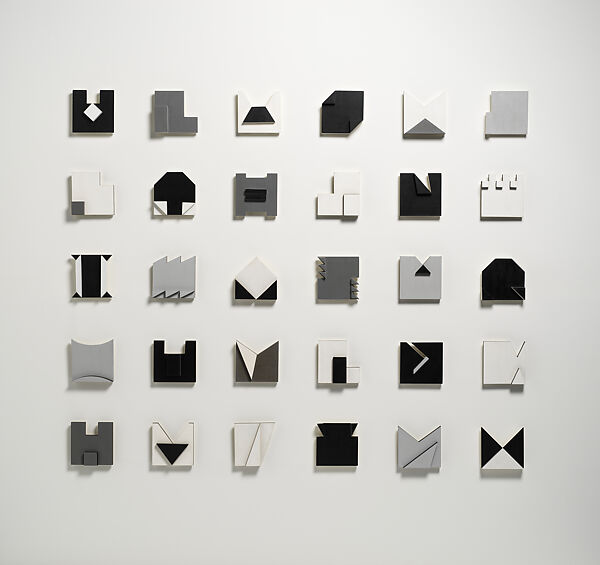 This artwork is meant to be viewed from right to left. Scroll left to view more.