Letter in Kana Characters
Myōe Kōben 明恵高弁 Japanese

Not on view
Monk Myōe came of age at the outset of the Kamakura period, a time when Japan's political and religious structures were undergoing transformational change—when a court-centered government was shifting to a military one, and new sects of Buddhism led by charismatic leaders would emerge from the Pure Land Buddhism that flourished during the Heian period. Monk Myōe emerged as one of these spiritual leaders and was a dedicated diarist and correspondent, and more than twenty letters in his hand survive, including the one here. Some, quite lengthy, provide revealing insights into his thoughts, relationships, and circumstances. Other brief notes, such as here are difficult to interpret without more context. Since this letter has not previously been published or scrutinized by Myōe scholars, and is considered a new discovery, further research remains to be carried out on its contents.

During the early Kamakura period, when Myōe was active, the Hosshōji style (Hosshōji-ryū 法性寺流) of calligraphy flourished among both court nobles and the warrior elite. This style was bold and sometimes even brash compared with elegant, graceful style associated with the handwriting of court nobles in the Heian period. At the same time, bokuseki 墨跡, the brusque, idiosyncratic calligraphy of monks, mainly of the Rinzai sect, came to be prized, both for its rule-breaking individuality, but also due to association with the personalities of famous prelates. Similarly the distinctive brush writing of spiritual leaders of other Buddhist sects such as Shinran (the founder of the Pure Land offshoot Jōdo Shinshū) and Nichiren was cherished, and Myōe's calligraphy was similarly sought after and preserved as autograph traces of an inspiring religious personality.

Myōe, scion of a samurai family in the Heike lineage, was born in Arita, Kishū province (Wakayama prefecture). At age nine, he lost both parents and was placed in the care of his uncle, Monk Jōkaku上覚of Jingoji Temple on Mount Takao, Kyoto, and began Buddhist training under his uncle. He became an adherent of the Kegon sect at Tōdaiji in Nara and rose quickly in the monastic ranks. Also known by his Buddhist name Kōben 高弁, he went on to found of Kōzanji Temple in Togano'o, Kyoto. Retired Emperor Go-Toba, Kenreimon-in (Taira no Tokuko), Kujō Kanezane, Hōjō Yasutoki and many other powerful political figures of the day embraced his teachings. He also achieved esteem as a waka poet and calligrapher. He is best remembered for his Dream Diary Diary (Yume no ki 夢記), a personal journal he maintained for almost forty years, represented by two sections in The Met's collection (2014.719.3 and 2014.719.4).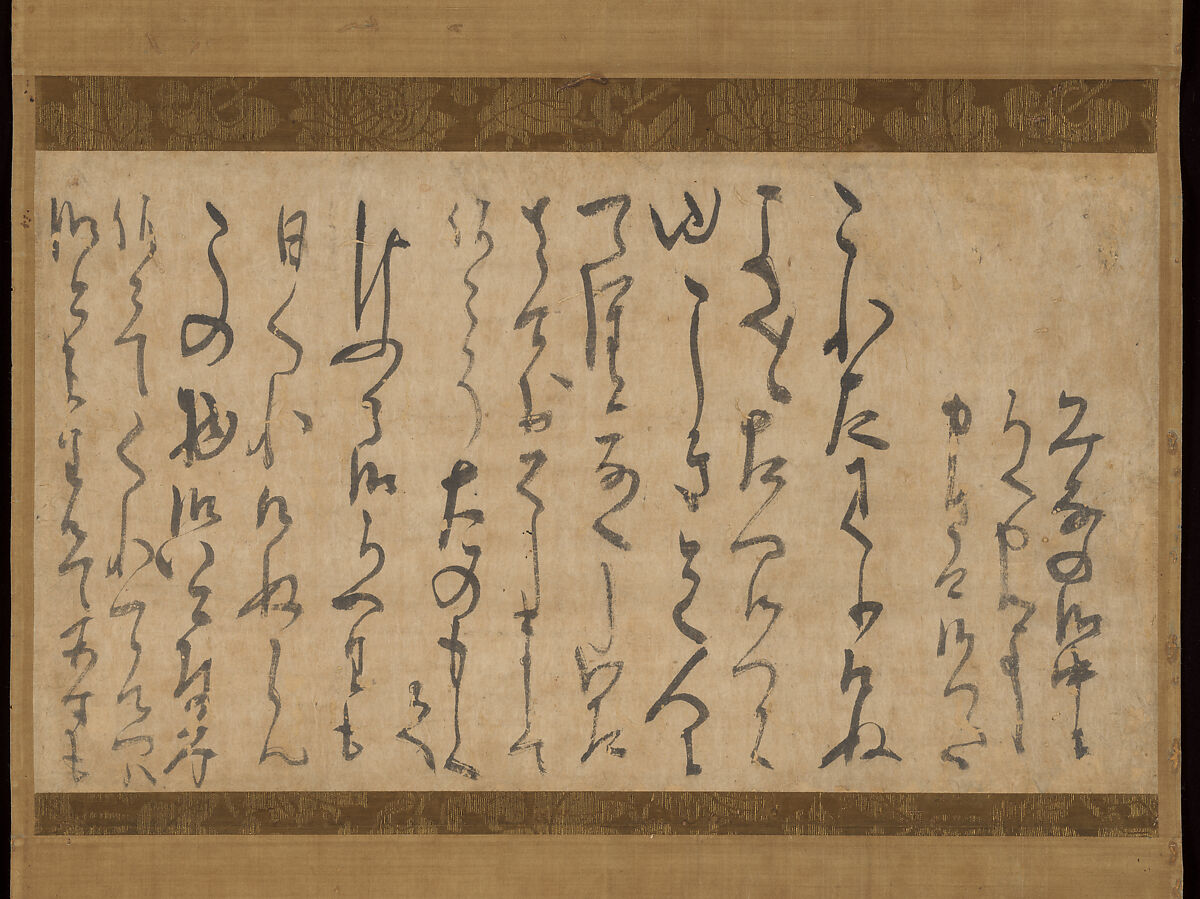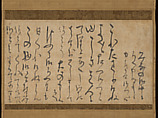 This artwork is meant to be viewed from right to left. Scroll left to view more.