Brewing Tea in the Shade of Trees
Aoki Mokubei 青木木米 Japanese

Not on view
In an absolute tour de force of brushwork, rendered in various tones of ink and light colors, the Literati artist Aoki Mokubei has captured an imaginary landscape with dense foliage in the foreground and a craggy mountaintop dominating the upper right of the composition, while the eye is drawn to the serene peaks in the distance brushes in pale blue washes. In this breathtaking mountain setting, a group of men in Chinese-style scholar robes and caps partake of tea outdoors, as a servant tends to the ceramic stove (ryōro 涼炉) upon which sits a ceramic kettle for heating water. These accoutrements were used for preparing sencha (Chinese-style steeped tea), as popularized by émigré Ōbaku Zen monks who traveled from China to set up temples in Nagasaki and the Kyoto area, and eventually throughout Japan.

The poetic Japanese title for this work "Brewing Tea in the Shade of Trees" (Ryokuin senme i緑陰煎茗), derives not from the artist, but from the inscription on the box in which the painting is stored. Aoki Mokubei grew up in the Gion district of Kyoto, where his family owned a restaurant–brothel (chaya). Mokubei began making pottery under the guidance of Okuda Eisen (1753–1811), and he was soon celebrated for his expert copies of Chinese ceramics. Together with Eisen and Nin'ami Dōhachi (1783–1855), he is credited with reviving the ceramics traditions of Kyoto. Yet, he eventually established his reputation as a Literati painter, calligrapher, and scholar of note. As a painter he immersed himself in models of Ming and Qing, though woodblock printed painting manuals as well as actual works available in Kyoto of the day. Ike Taiga was an inspiration as well.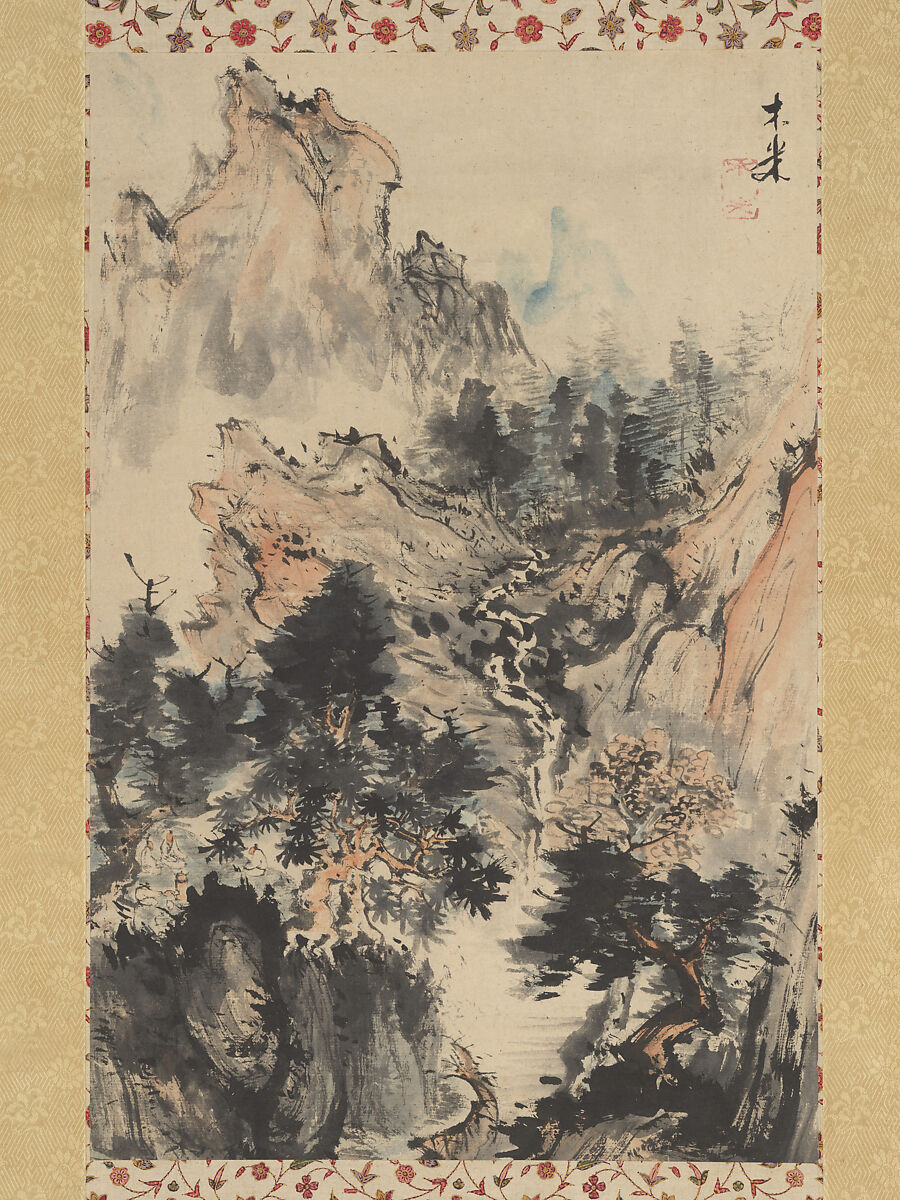 This artwork is meant to be viewed from right to left. Scroll left to view more.