On loan to The Met The Met accepts temporary loans of art both for short-term exhibitions and for long-term display in its galleries.
Kyōgen Suit (Suō) with Rabbits Jumping over Waves
Not on view
The suō—an unlined hemp suit with double-width sleeves, large sleeve openings, and matching pleated hakama pants—was originally part of the samurai wardrobe and was later adapted to Kyōgen comic theater. White rabbits hop over waves on this suit, the playful motif referring to the story "The Hare of Inaba," from the Records of Ancient Matters (Kojiki, ca. 710). This text was later referenced in the Noh play Chikubushima (Chikubushima Island), which describes the moon's reflection in Lake Biwa as a rabbit (a legendary inhabitant of the moon) running over the waves. Suō with large patterns and bright colors were used for roles of benevolent characters such as a bridegroom, daimyo, or wealthy man. As the long hakama pants are subject to intense wear, it is rare to find a complete ensemble like this one.

On view from June 7, 2022 – February 20, 2023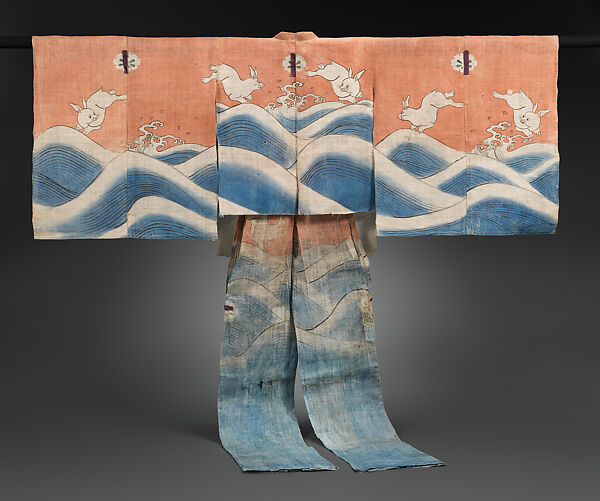 This artwork is meant to be viewed from right to left. Scroll left to view more.