On loan to The Met The Met accepts temporary loans of art both for short-term exhibitions and for long-term display in its galleries.
Meisen Kimono with Large Checkered Pattern
Not on view
In the ōgasuri (large ikat) version of the tie-dyed ikat technique, which was developed in Isesaki in the 1920s and flourished from 1930 to 1940, both the warp and weft threads were tied and then resist-dyed before being woven. This ōgasuri robe, which was inspired by the abstract paintings of Piet Mondrian (1872–1944), features large patterns in raspberry red, turquoise, yellow, and white, and is embellished with gold thread. This method could produce only straight lines, such as stripes, blocks, and checks. The blurry edges are typical of the kasuri technique, as the patterns dyed into the yarns could not be perfectly aligned on the loom. Japanese department stores worked closely with textile workshops in Isesaki, Ashikaga, Chichibu, Kiryū, and Hachioji to develop inexpensive, mass-produced meisen kimonos. These were designed to be visually striking, with a great variety of bold patterns and bright colors. Retailers aggressively promoted them to turn over inventory quickly and to create fast-changing trends that would continually bring customers back.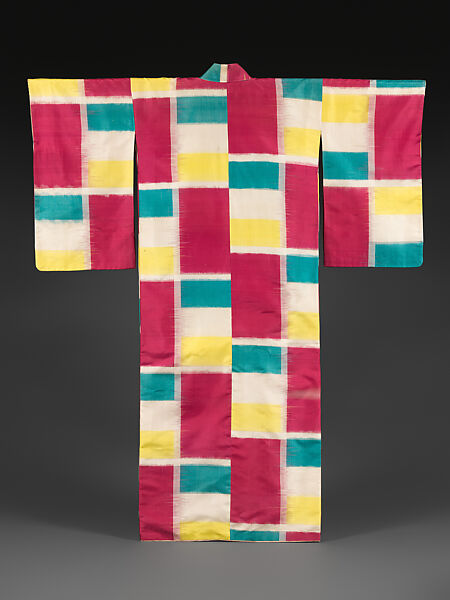 This artwork is meant to be viewed from right to left. Scroll left to view more.