Inscription on the anonymous painting of Chen Puxie
Ikkyū Sōjun 一休宗純 Japanese

Not on view
Ikkyū Sōjun, an erudite monk of the Rinzai Zen sect, built a reputation as one of medieval Japan's great eccentrics and religious iconoclasts, both through his personal behavior in the conservative society of Kyoto's Buddhist monasteries and through his Chinese poetry. The persona of eccentricity was also partly established and reinforced by his idiosyncratic calligraphy, as seen here. Ikkyū is also among the monk-poet-calligraphers of medieval times who helped establish the image of Zen art and literature as an aesthetic system that could be directly experienced and enjoyed without being an actual practitioner of the strict ascetic lifestyle that underlay it. He was famous in his day for breaking religious taboos, and for his refusal to practice celibacy expected of a Buddhist monk. As a poet he used the pen name Kyōun, or "Crazy Cloud," and his collection of poems, The Crazy Cloud Anthology (Kyōunshū), not only attests to his mastery of literary Chinese but also to his profoundly rebellious personality. The poems here inscribed by Ikkyū are from his personal collection, specifically the first four poems of Eight Poems about Chen Puxie (Chin Hoai hasshu 陳蒲鞋八首 ). These didactic Chinese poems, composed in seven-character lines, take up the topic of the decline and the internal conflicts of Buddhist schools.

Beneath the poetic inscription is an unsigned imaginary portrait of the Chinese monk Chen Zunsu 陳尊宿 (780-877), who as a youth became a disciple and eventual dharma heir of the esteemed Chan master Huangbo Xiyun 黄檗希運 (died 850). As a spiritual mentor, Chen was said to be eccentric, even violent sometimes, but he came to be highly respected in Chan circles, and we can assume that Ikkyū saw him as a role model. Later in his career he became known as Chen Puxie 陳蒲鞋, or Rush Sandal Chen—the name inscribed here on the far left—because he devoted so much of his daily routine as a monk to simply plaiting rush sandals that he would hang from the eaves of his temple to give or sell to passersby.

The anonymous portrait, rendered with great verve entirely in pale shades of ink, shows the monk sitting on the ground. He holds a half-finished sandal between his hands and feet, a sickle and some cut reeds by his side. The stand of reeds behind him is brushed in denser ink. Sometimes Ikkyū would create his own paintings and add transcriptions of poems or Zen teachings, but the brushwork here does not match any connected with the eccentric monk, while the distinctive calligraphy immediately bespeaks his brush writing style.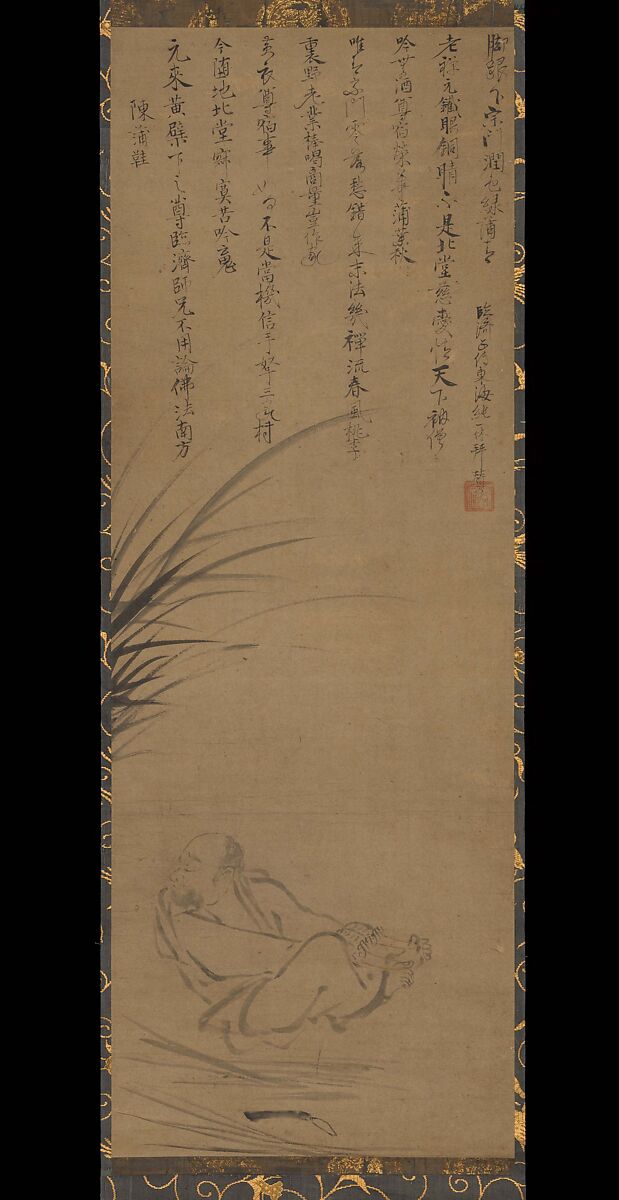 This artwork is meant to be viewed from right to left. Scroll left to view more.