Sugawara Michizane Traveling to Dazaifu
Not on view
Sugawara no Michizane (845–903), a prominent courtier, scholar, and poet of the early Heian court, can be counted among the greatest culture heroes of ancient Japan. His reputation was only enhanced after his death when it became known that he had been falsely accused of wrongdoing and denied promotion in the court hierarchy by rivals in the palace (especially of the Fujiwara clan) despite his superb qualifications. This six-panel screen shows Michizane, after he was demoted to a low-ranking office—de facto exile from the court—and had to travel from the capital of Kyoto to Dazaifu, a faraway posting on the island of Kyūshū. Tragically, after two years of being relegated to Daizaifu, he died, pleading his innocence to the end.

This colorful screen painting on gold-leafed paper, with its continuous landscape background captures events at various stages of the courtier's banishment to Dazaifu. In the upper right, we see Michizane in court costume bidding farewell to Retired Emperor Uda (reigned 887–897), who had been one of his most fervent supporters, and who in retirement took Buddhist vows, so he appears in the garb of a high-ranking monk. The central scene shows the procession accompanying Michizane being conveyed in an ox-drawn carriage as he proceeds to the Bay of Naniwa (present-day Osaka), where he boarded a boat—visible in the background—to Dazaifu. One of the men following the carriage is shown wiping his tears as he grieves Michizane's tragic fate. This detail is borrowed directly from earlier handscroll versions of this story.

After Michizane's death, various natural disasters—floods, lightning, fires—and a pandemic that killed various Fujiwara courtiers and an emperor wreaked havoc on the capital, and members of the palace eventually came to believe that they were caused by the vengeful spirit of Michizane. To placate the soul of the deceased courtier, his court rank was posthumously restored and he was even deified as the Shinto god Tenjin, and Kitano Tenmangū Shrine was established to memorialize him. Even to this day Tenjin is revered as a deity of learning, and as a patron saint of calligraphy (though unfortunately no verifiable examples of his brush writing survive). Remarkably, over 14,000 Tenjin shrines still exist throughout Japan—a testament to how the mythology of Michizane still holds sway. Students hoping to do well on college entrance exams pray for divine intercession at Tenjin shrines in January and February every year.

The historical, legendary, and miraculous events of Michizane's life and deification were pictorialized in the twelfth-century handscroll Illustrated Legends of Kitano Tenjin Shrine (Kitano Tenjin engi emaki) which is known in various recensions, of which The Met owns one of the earliest and finest examples. This early seventeenth-century screen—a rarity in its own right since we cannot identify another example with this iconography—faithfully replicates scenes from the ancient handscrolls but reconstitutes them into a unified composition. Most likely it was the right-hand screen of a pair, and though we cannot be sure, it is possible that the left-hand side depicted the scene in which the ox pulling a cart with the remains of the deceased Michizane paused in its journey back to the capital and refused to go further. Thereupon, Michizane's remains were interred at a grave nearby.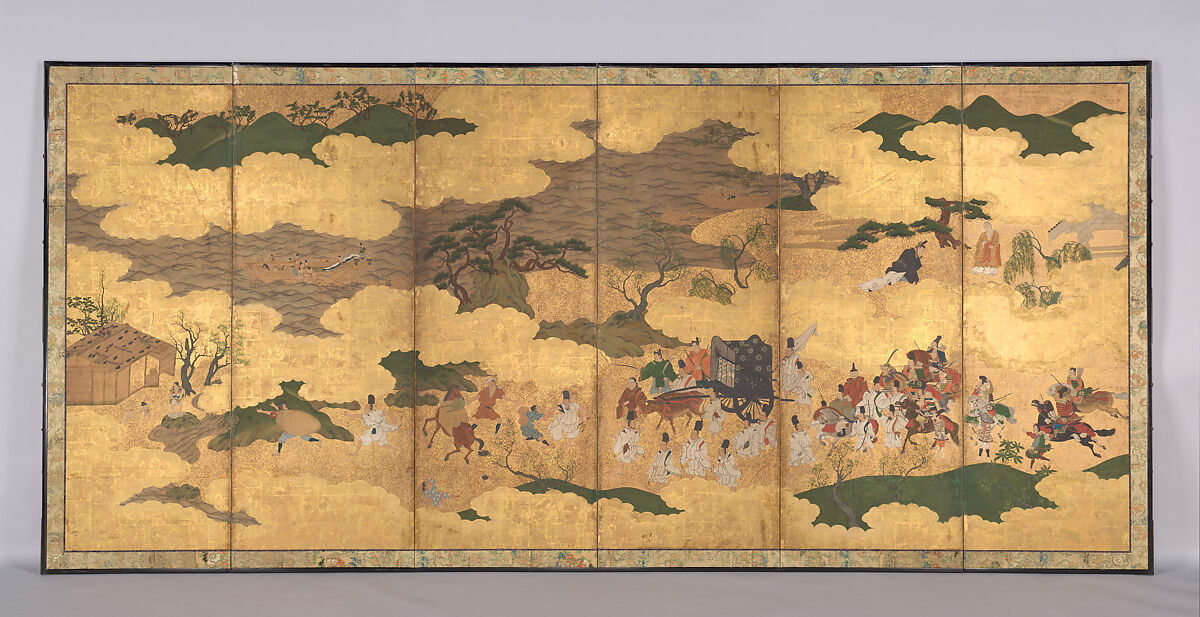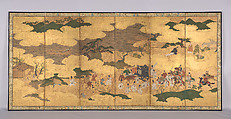 This artwork is meant to be viewed from right to left. Scroll left to view more.