Pair of Cranes in Bamboo Grove
Tanomura Chikuden 田能村竹田 Japanese

Not on view
This exquisite composition by Tanomura Chikuden, one of the great Nanga painters active into the early nineteenth century, captures a pair of red-crowned cranes lifting their heads as if viewing the full moon shining though a bamboo grove. While the cranes were meticulously brushed in ink and light color, the background was rendered in atmospheric monochrome. The painter executed the bamboo and grasses in smooth lines with a fine brush while handling the rocks with expressive strokes and bold ink washes, conveying the overall effect of the tranquil evening when the moon is full but partially obscured by a stand of bamboo.

Tanomura Chikuden (1777–1835) was a Nanga painter who had close connections with scholars and painters in Kyoto. He was inspired by literati masters of the Yuan dynasty and compiled painting treatises that set the theoretical foundation for literati painting in Japan. His adopted son, Chokunyū, and grandson, Shōchiku, continued his pursuit of Nanga and inscribed the box containing this work.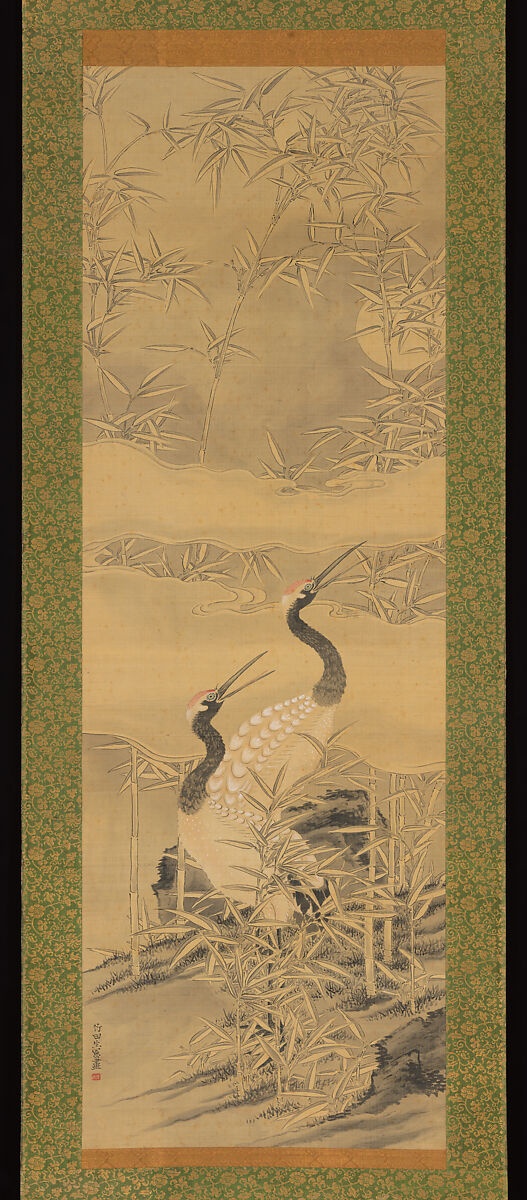 This artwork is meant to be viewed from right to left. Scroll left to view more.