The Night Parade of One Hundred Demons
Tachibana Gadō 橘雅堂 Japanese

Not on view
In this handscroll, rendered in lively, almost cartoonish brushwork, a parade of demons makes its way from right to left in this horizontal composition. The monstrous but humorous-looking creatures appear in all shapes and sizes, some taking on rather grotesque human features while others resemble animals, birds, or demonic creatures from Buddhist hell paintings. Others represent household utensils, personal accessories like umbrellas, musical instruments or ritual objects that have come to life. The imagery is based on ancient legends about demons and goblins who parade by night through the streets and even the mansions of the old capital city (Kyoto), until the coming of dawn causes them to return to their otherworldly realm. These beliefs combined with folktales claiming that worn out household utensils could be transformed into demons to plague mankind at night.

Scrolls such as this are variations on the Night Parade of One Hundred Demons that can be traced back to sixteenth-century handscroll version of the theme in the collection of the Shinjuan temple of the Daitokuji temple complex in Kyoto. Another, earlier handscroll version of similar imagery by Mochizuki Gyokusen (1692–1755) is also in The Met's Collection (2018.853.22). This handscroll very well might have been inspired by Kawanabe Kyōsai's immensely popular illustrated book Kyōsai's Pictures of One Hundred Demons (Kyōsai Hyakki gadan) published in 1890 (2016.751.1).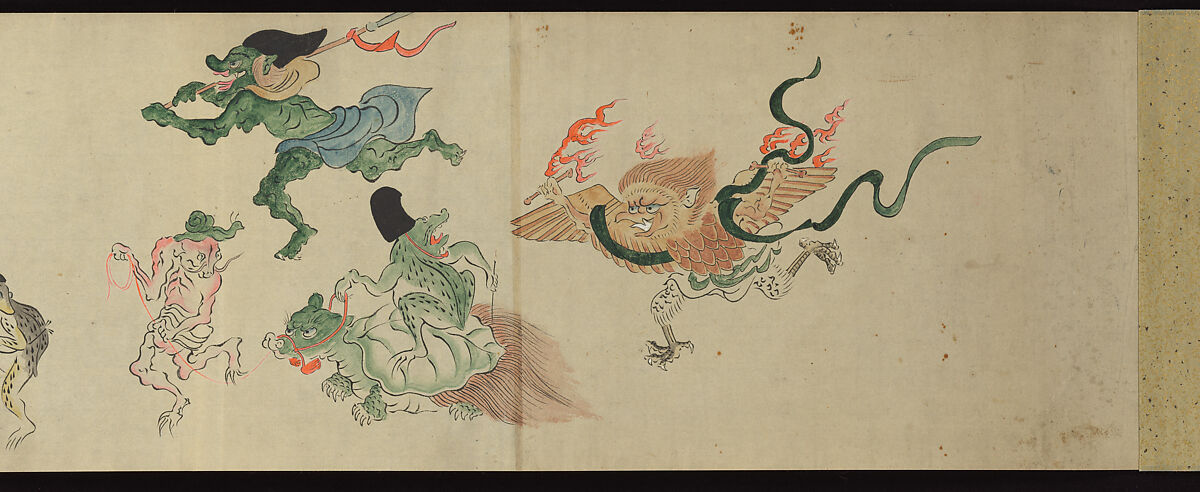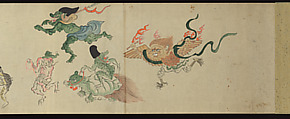 This artwork is meant to be viewed from right to left. Scroll left to view more.