Returned to lender The Met accepts temporary loans of art both for short-term exhibitions and for long-term display in its galleries.
Reconstruction of bronze Riace Warrior A
Vinzenz Brinkmann German
Ulrike Koch-Brinkmann

Not on view

These reconstructions represent two exquisite Classical Greek bronze statues found near Riace, Italy, in 1972. Research conducted during the reconstruction has led to important discoveries about the original appearance of the nude warriors. Sulphur residue in the corrosion layers shows that an artificial bronze patina was used to indicate skin color. As here, the eyes featured inlaid stone, lips and nipples were copper, and the teeth of these figures were silver sheet. Surviving fitting elements indicate that Riace B wore a fox-skin cap (alopekis) and Riace A wore a Corinthian helmet that was likely gilded, according to ancient custom. This representation of the lost cap of Riace B was modeled by Christoph Bergmann based on depictions in a relief from the Athenian Parthenon.

"Two Greek bronze statues of nude warriors were found in 1972 off the south coast of Calabria. Most likely they stood originally on the Athenian Acropolis in Greece. The reconstructions were carried out in various stages. In 2012, the head of Warrior A was scanned and a bronze cast was outfitted with a Corinthian helmet. This was followed, in 2013-2015, by a complete reconstruction of Riace A. In 2015-2016, Riace B was scanned, cast in bronze, and reconstructed.

Sulphur residue was observed in the layers of corrosion of the originals and interpreted as the remains of an artificial patina that was applied to the freshly cast bronze.

According to ancient sources, bitumen (asphalt) and patination were used for coloring and would have made possible a distinction between the skin and the hair colors of the two warriors, though for now any determination is largely hypothetical. The bronze cast of Riace A was therefore given a reddish patina by means of a sulphur reagent and asphalt lacquer in an oil-based solution, to represent deeply tanned skin and brown hair, while Riace B was given a blueish patina by means of asphalt lacquer mixed with indigo.

The hair of the Thracian warrior (Riace B) was given a reddish hue by means of a mixture of madder and asphalt lacquer. The eyes were fashioned from colored stones, just as in the original statues. The lips and the nipples were worked in bronze and inlaid separately, also matching what can be observed on the originals. The teeth of the original Riace A were formed from a sheet of silver, so a similar silver sheet was used for inlaying the teeth for the reconstruction. It can be shown that Riace A originally wore a Corinthian helmet. The bronze helmet from the tomb of Denda (Staatliche Glyptothek und Antikensammlungen, Munich) was recreated for the reconstruction. The gilding of the reconstructed helmet was added on the basis of literary references and representations in Roman painting. Warriors A is clutching the long staff of a lance in his right hand, and he once carried a heavy Greek round shield, which has been restored

No other type of ancient helmet besides the alopekis, a fox-skin cap, would have fit the head of the sculpture with the surviving elements of the raw and undefined surface of Warrior B's skullcap, which include three copper plates with a dotted structure and a rectangular plate located above the forehead. The Munich artist Christoph Bergmann fashioned the missing fox skin cap (alopekis) of Riace B using examples on the Parthenon Frieze in Athens as a model.

An analysis of both the arms and hands of Warrior B indicates that he also carried a light shield and two different weapons. He is holding in his right hand the short staff of a weapon that is pointed forward and downward like swinging a double-bladed axe.

The index finger of Riace B's left hand is extended outward and obviously held an arrow that had been lost in the meantime. Consequently, the figure also held a bow in his closed left hand. This equipment, consisting of a light shield (pelta), arrow, bow and fox-skin cap, was added to the reconstruction in 2022 and suggests that Riace B represents the Thracian king Eumolpos as he encounters and is murdered by Erechtheus, the mythical king of Athens, in the so-called Eleusinian War. Finally, it is likely that the two bronze warriors from the sea off the coast of Riace, Calabria in southern Italy formed a statue group that was originally set up on the Athenian Acropolis."

Vinzenz Brinkmann and Ulrike Koch-Brinkmann



Reconstruction of Riace A, 2015:

cast bronze, copper, colored stones, silver, gold, asphalt

H. 282 cm (complete), H. without the spear 209 cm.

3D printing in PMMA and wax: Lorenzo Campana, voxeljet; bronze casting: Strassacker Co., Süssen; liver of sulphur for the patina: Strassacker Co., Süssen; inlays: Kristina Balzer, Manfred Wild

Liebieghaus Skulpturensammlung, Frankfurt am Main, inv. LG 133 (long-term loan from the Museo Archeologico Nazionale, Reggio di Calabria)



Scientific methods employed:

Optical stereoscopic microscopy (10–50x, Zeiss and Olympus)

Raking light imaging (Schott KL1500)

Black-and-white imaging in visible light (VIS)

Color imaging in visible light (VIS)

Photomicrograph (with microscope or macro objectives)

Identification of alloys with the help of X-ray fluorescence spectroscopy (XRF), and analysis of the sulphur components



Scientific evaluation:

Edilberto Formigli, Paola Donati, Vinzenz Brinkmann, Ulrike Koch-Brinkmann



Acknowledgements:

Edilberto Formigli

Paola Donati

Salvatore Settis,

Simonetta Bonomi

Ministero per i Beni Culturali, Roma (Gino Famiglietti)

Soprintendenza Archeologica della Calabria, Reggio di Calabria

Konstantin Galanulis, GOM Braunschweig

Fondazione Prada, Milan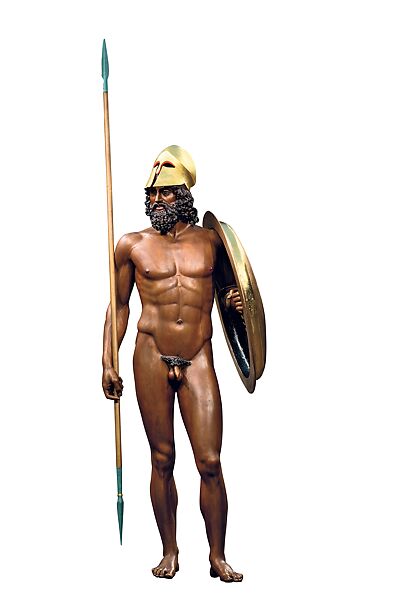 This artwork is meant to be viewed from right to left. Scroll left to view more.